As I revealed in a much earlier post entitled "Aural Hygiene", I often combine dental-hygiene appointments with CD-shopping because my favourite record store Atelier Grigorian is right around the corner from my tooth-scraper. I repeated this "jazz S&M double-play" this week with some serendipitous results, which in turn led me to remember some stories. As they preserve so much precious music which would otherwise be lost, jazz records provide an indispensable current linking memory, songs, emotion, important musical developments and musicians' stories to form the backbone of jazz, its very mythology.
On the way to the store, gums all a-tingle, I was thinking of a Gene Ammons listening kick I've been on lately, which has served as a kind of astringent antidote to hearing too much treacly Christmas music over the holidays. I think of it as a "Jug jag", because Ammons was nicknamed "Jug" for his massive, square head. I've been considering writing a piece on Ammons and mentioned this in an email to my good friend Bill Kirchner, who sent me what I thought was an article he wrote about Ammons and his frequent partner in crime, Sonny Stitt. It was terrific, containing among other things a detailed overview of the evolution of the two-tenor battle from its earliest days. I thanked him for this, saying that the article read like the liner notes to a record, which he kindly let go without comment. At home that night, I dug out a 1962 Stitt/Ammons record called Boss Tenors In Orbit and – daahhh – here was the "article" Bill had sent me, his liner notes to Verve's CD reissue of this great album. I'd completely missed them, mainly owing to the extremely busy packaging which was something of a Verve specialty in those days, as if their art directors had taken too much acid all of a sudden.
Grigorian had undergone a recent reorganization, so it took me a minute to get oriented and I said hello to the on-duty staffers, who know me by now. They often play great music, as on this day when I heard some of Jim Hall's wonderful record It's Nice To Be With You. Then on came some very welcome and familiar tenor saxophones – it was Boss Tenors In Orbit. I could scarcely believe the coincidence and thought maybe this augured well for some discoveries. I love hearing familiar records unexpectedly like this. Stitt and Ammons oozed over me as I was browsing and I was just gone, muttering little asides like "Oo-weee, Stitt, get it, get it", and "Yeah Jug, go!" which amused the staff a little. Hearing this sent me to the Ammons bin, without expecting to find much I needed, as I have a pathological number of Gene's records. But, no, I was in luck. An outfit called JAZZPLUS has issued two of Jug's Moodsville records from 1961-62 which I've never had – The Soulful Moods of Gene Ammons and Nice An' Cool – on one disc, for all of $14. Talk about an easy decision and this seals it, I'm definitely writing a piece on Ammons in the near future.
Moodsville was an adjunct of Prestige which generally reflected the gentler side of that label's roster of artists. This ties in with something I'd like to touch on in a piece about Jug – that he was not only a powerhouse, bluesy cooker, but a great lyrical ballad player too, and he knew reams of tunes. Twelve of the sixteen standards on these records are well-known, but I barely know the other four – "Two Different Worlds", "Answer Me, My Love", "Something I Dreamed Last Night" and "Something Wonderful". To boot, one of my favourite under-recognized pianists, Richard Wyands – still sounding good at 86 – plays on one of these records. So, this was a great start and I highly recommend this Ammons disc, it's nearly eighty minutes of pure, down-home beauty.
I was looking for Basie's Beatle Bag, which I've had many chances to buy in the past, but always stayed clear of for fear it would be schlocky. I love Basie and The Beatles, but was afraid the two together would cancel each other out. Kirchner had heartily recommended it though, saying Chico O'Farrill's charts were terrific and calling it one of the great "jazz party records", which is good enough for me. No luck on this, but I did find something I've dearly wanted and thought I'd missed out on – the three-CD Mosaic Select set of Pacific Jazz piano trios, featuring rare sessions by Russ Freeman, Richard Twardzik, Jimmy Rowles and Clare Fischer. The Fischer material has never been reissued before and features three great LA bassists – Ralph Pena, Gary Peacock (in the very early part of his career), and Albert Stinson, before his brilliant, too-short career ended with an overdose. For these reasons, the limited-edition set sold out faster than I expected, so finding it like this was a boon. The price was a little higher than I liked, but I didn't care. As a friend once said to me when I confessed to feeling guilty after a record-buying spree, "Man, you were just going to blow that money on paying bills anyway".
After searching for years, I was very happy to at last find a copy of Bobby Hutcherson's Total Eclipse!, done in 1968 for Blue Note. I have no idea why it's been so scarce, as it's one of Hutcherson's best and most important records. It captures the vibraphonist at his peak with a top-flight band consisting of his frequent playing partner (and one of my favourite tenor players) Harold Land; Chick Corea, in a great early period of "pre-clarity", with the springy and inventive rhythm team of Reggie Johnson on bass and Joe Chambers on drums. Fellas, where have you been, what took you so long?
Stanley Turrentine made a number of good albums for Blue Note in the '60s with eight-piece bands, generally produced and arranged by Duke Pearson. My favourite among these is The Spoiler, from 1966; I've had it for years but my copy started to skip, so it was nice to find a replacement here at a cheap price. The bands on all these records comprised some of the best jazz players in New York, but what sets The Spoiler apart is its wonderful sequence of tunes, chief among them three superior standards: "When the Sun Comes Out" by Harold Arlen and Ted Koehler; Andre Previn's "You're Gonna Hear From Me"; and most of all, "Maybe September" by the team of Percy Faith, Jay Livingston and Ray Evans, which makes this album indispensable.
"Maybe September" is a dark, yearning ballad and was the theme to a potboiler of a movie called The Oscar. Turrentine's version has achieved a near-mythical standing among a circle of some of my musical friends, owing to its central role in a notable after-hours hang at The Top of the Senator many years ago.
It was the Saturday night of a week-long gig – remember those? – with Rob McConnell's Tentet. The band had played hard and had a great night and afterward, we gathered at the bar for a much-needed drink and wind-down. Gradually, everybody went home except for a core of Rob, saxophonist Mike Murley, pianist Mark Eisenman, a bartender and waiter (both named Mark and each of them knock-down funny) and above all, Sybil Walker, the incomparable woman who ran the club almost single-handed for so many years. The drinks and conversation were flowing freely, many stories and much laughter ensued and nobody seemed to want to leave and break this spell. Sybil was in great form and so was Rob, who, when in an expansive mood like this, was one of the best and funniest story-tellers I ever knew. I remember actually falling down laughing at one of his deliveries.
Throughout all this, while dispensing drinks and her scathing wit, Sybil kept playing Turrentine's version of "September" over and over until it held us in a trance, becoming the increasingly compelling soundtrack to all this bonhomie. At one point, Rob and Sybil actually danced to it, Rob threatening to kill anyone who later ratted him out for this. We came to refer to the song simply as "Track Five", because that's what the CD player's LED display showed when it was playing. Rob liked it so much he later wrote an arrangement of it for the Tentet, featuring Murley's tenor. At around 4:30 in the morning it eventually dawned on Murley, Eisenman and me that we had a matinee gig with Mike's quartet that day, followed by The Tentet's closing night, so we cleared out of there. None of us will soon forget the cosmic "Track Five" hang, and it remains a fond remembrance of Rob.
Here's Turrentine's version, which benefits greatly from his brooding delivery and sound, blending with Pearson's lovely arrangement. The band is Blue Mitchell (trumpet), Julian Priester (trombone), James Spaulding (alto and flute), Pepper Adams (baritone), McCoy Tyner (piano), Bob Cranshaw (bass), and Mickey Roker (drums).
My last happy find was another record long on my wish list: Tubby Hayes and Clark Terry, The New York Sessions. It was recorded for Columbia/Epic in two very smooth sessions done in October of 1961, with the big Englishman's aggressive and assured hard-bop tenor buoyed by a great rhythm section of pianist Horace Parlan, bassist George Duvivier and drummer Dave Bailey. Clark Terry and vibraphonist Eddie Costa guest on some of the selections, both together and separately. This record went a long way toward establishing the credibility of Britain's modern jazz musicians and it was fitting that Hayes would be the one do this, as he was very much in the vanguard of UK jazz and would remain so even after his premature death.
My interest in this record stems from working with Mike Murley. When Mike formed his first trio with Ed Bickert and me around 1999, he brought in a song called "You For Me", saying he'd learned it from hearing it on this Hayes record. It's a lovely and unique song, written by Bob Haymes, the younger brother of the famous singer Dick Haymes. I'd never heard of it and neither had Ed, which surprised me – Ed is the hardest guy to stump on tunes I've ever met. Anyway, it became a staple of our repertoire and I've been wanting to hear Tubby Hayes' version for a long time.
A few years later I heard a song called "They Say It's Spring" on a Tommy Flanagan record and was struck by how similar it was to "You For Me", both in its general mood and in the first system of its melody. The first eight bars of each melody could be played together and sound like perfect counterpoint, but after this each song goes its own separate way, both of them doing quite interesting and unusual things.
Recently, Murley, Reg Schwager and I finished a trio gig by playing "You For Me". Before we started, Reg cracked, "Bob Haymes, man… the guy only wrote two tunes, this one and 'They Say It's Spring' and they're almost the same…". I hadn't realized that Haymes had also written "Spring", which at least accounted for their similarity. A little further research yielded that Haymes wrote more tunes than we thought, but most of them have remained obscure except for his oft-recorded ballad "That's All".
The singer Blossom Dearie is well-known for being a collector of offbeat and obscure songs, some of them her own. She made something of a habit of unveiling Haymes' songs early in her career. She was the first to record "You For Me" on her debut album in 1957, called – you'll never guess – Blossom Dearie. Two other songs by Haymes are also on it – "A Fine Spring Morning" and "Now, At Last". On her next album, Give Him the Ooh-La-La, she sang "They Say It's Spring"; Tommy Flanagan's piano version is very similar in every regard.
Blossom is not everyone's cup of tea, but here are her versions of "You For Me" and "They Say It's Spring", just for the sake of comparison. I find both songs charming in her hands. (Blossom is on piano here, with Herb Ellis on guitar, Ray Brown on bass and Jo Jones on drums, not bad company.)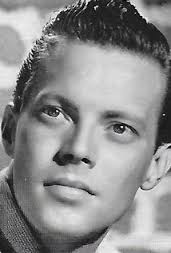 Speaking of Dick Haymes, pictured above…..Thanks to flugelhornist Guido Basso, I can no longer hear the singer's name without bursting into laughter, or at least smiling. This all dates back to a short, memorable tour in Mexico years ago. For a time, the Canadian Embassy staged a cultural exchange called "Canada In Mexico Week", selecting two Canadian artists – musicians, writers, painters, etc. – and showcasing them in Mexico. That year they chose a female visual artist whose name escapes me, and the Mike Murley trio with Guido along as our musical guest. It being a government tour, we were very well looked after, in this case by a really nice guy named Jeff Maggert, who worked at the consulate in Mexico City. It was his idea to bring Murley's group down, he really liked jazz and was quite knowledgeable about it. I remember doing three concerts in all, the last of them in Guadalajara.
This final concert was the gala event of the trip and would be attended by a whole host of Mexican and Canadian politicos, meaning that all official – i.e. roomy – transportation was spoken for. The band would have to get to the gig by taxi, the problem being that all the local cabs were Volkswagen Beetles, none of which would accommodate my bass. Thinking fast, Jeff hit on a novel solution. Every day in front of our hotel, he'd noticed a sight-seeing horse and buggy, manned by an old Mexican guy wearing a cowboy hat. He asked if my bass would fit in the buggy, which it would easily. Right there, he booked the guy for the whole night to take me to the gig and back, saying that it didn't cost much by our standards but the driver would be making what amounted to a week's pay for him. So, at the appointed hour, dressed in my gig suit, I loaded the bass into the buggy and we breezed off, the guys laughing and taking pictures as I did the wrist-twist Queen Elizabeth wave – "Philip and I shall see you chaps at the concert – eh, what?"
It was easily the funniest and strangest trip to a gig I've ever made, which is saying something. The horse looked about ten years past its prime, so we stuck close to the curbs on the busy streets with cars zooming past us, honking. By the time I arrived at the venue the other guys were already there and as I lurched out with my bass there were more laughs and photo-ops, not to mention a few turned heads. The venue itself was the ruins of an old structure that had been preserved as a natural amphitheatre for outdoor concerts. The sound and atmosphere of this unique setting were wonderful, making for a memorable concert. Afterward, the Mexican cowboy was dutifully standing by with my chariot, I felt like a jazz Cinderella. As there was plenty of room, I invited the visual artist and Murley to join me for the return trip. They did and it was unforgettable, the now silent and deserted streets of the big city echoing with the clippity-clop of the horse's hooves. I was tempted to shout out the famous bandito line from The Treasure of the Sierra Madre: "Badges?! We don't need no stinking badges!!" – but thought better of it.
The next morning we flew to Mexico City, where we would catch another flight home to Canada. Jeff deposited us at the Air Canada desk and we said our goodbyes. As soon as this official aegis disappeared, we were in trouble – Air Canada was balking about taking my bass coffin on the plane. My anxiety level rose instantly as I argued that Air Canada had flown the bass down, so they could damn well fly it back, but got nowhere. Annoyed, the airline rep motioned me to step away, saying she would recall me after consulting with some baggage honcho, which didn't exactly fill me with hope.
I went over to Murley, Guido and Reg to break the bad news and a few minutes later Guido gave me a nudge – the airline rep was beckoning, pointing to another woman who apparently was going to handle things. Guido said, "Let's go see what Dick Haymes has to say". I looked over and let out a sharp snort of laughter as my legs buckled. He was dead right, this airline bimbo looked just like a Mexican drag-queen version of Dick Haymes. Maybe it was the tension, and I guess you had to be there, but this was some of the funniest airport stuff ever and as we came closer to this weird-looking woman, it got funnier and funnier. I was drooling like an idiot and choking back the giggles, worried that they wouldn't help our cause any. It never fails, it's always when you're not supposed to laugh that you can't stop laughing, and Guido had me on the ropes.
He's a charming and affable man, but when the need arises Guido can summon up his inner Vito Corleone. This Godfather transformation was complete by the time we reached the counter, where he took the lead. In his best impression of Sheldon Leonard, his suddenly grating voice about an octave lower than usual, he said, "Look, let's stop kidding around here….the bass has to get on the plane so we can go home, so what do you need from us to make this happen?" Showing no sign of anything remotely human, Dick Haymes looked us right in the eyes and said with a straight face, "There will be an excess baggage charge of twenty-five dollars for the bajo", pronouncing this like it was a death sentence.
Before I could even digest this astoundingly good news, Guido whipped out his credit card and slapped it down on the counter – "You got it, Haymes!" – causing more strangled laughter to come gurgling out of me. All I could think of was Dick Haymes in a sarong, singing "Besame Mucho"…..I didn't dare make eye-contact, I was squirming, just dying. When Dick had finished the transaction, Guido applied the comic coup de grâce – "Man, all this fuss over twenty-five stinking dollars? – we spill more than that every night!". And with that, he led me – now a soggy lump of barely stifled hilarity – gently away.
You know…it's the love of music that draws musicians into the business in the first place and keeps us there. But it's the funny stuff, the wild situations, great lines and whacked-out humour that gets us over the many bumps of a music career. It would be nice to have more money, but I wouldn't trade all the laughs and stories for any sum.
© 2015 – 2017, Steve Wallace. All rights reserved.