"They call my home the land of snow" – Robbie Robertson, "Acadian Driftwood".
Without a doubt, snow can be a pain: shoveling it, driving in it, schlepping and trudging through it. But it can also be so pretty, not just pretty awful. Snow is the decorative element of winter: without it, the season would be long, cold, dismal and grey; snow makes it long, cold, dismal and white. It's important to stay positive.
The beauty of snow is most comfortably appreciated from the snug warmth of the great indoors, as I did on the Sunday before Christmas. While waiting for the coffee to brew, I looked out the kitchen window to behold eight or ten inches of it covering everything in sight. It was folded in dunes all over the back deck, looking like a miniature Alps. It covered the roofs of garages and sheds, making these otherwise pedestrian structures look jaunty and picturesque. There were tiny pyramids of it on top of fence posts, and it lay on shrubs and in the crevices of tree branches like stray meringue. And the perfectly even, fluffy layer of it covering the round deck-table resembled the bottom storey of a wedding cake, which made me shudder a little. It was a bright day, and the shifting sunlight kept playing against all this, making the scene shimmer and glisten. Like many beautiful things, it was fleeting and absolutely free.
Along with clouds, water, and eyes, snow must be exceedingly difficult to paint. For starters, it's white, and so is the canvas. And technically, white isn't even a colour, it's a tint. What can you really do with white? Applied too thinly, it's flat and wishy-washy; too thickly and it becomes blotchy, even stodgy. But of course snow isn't just white, it takes on many subtle shades of light and shadow: greys, light blues, mauves.
And it's very protean, it adopts many forms and properties depending on conditions. In thick wind-blown drifts across country fields it looks like a desert of icing-sugar. It can be wispy sitting in evergreens or blown up against posts, but it also has weight and mass when piled up. Sometimes it has a silver patina of ice, or a black-grey crust of soot. Then there are all the impressions made on it: human and animal footprints, tracks of sleds and tires. It can look dirty in cities and blindingly pure in the country. Most beautiful of all are the shadows that bare trees cast on it. All of these and many more shifting qualities present challenges for painters, exacerbated by the fact that we're all experts on snow. We've seen it all our lives.
So it's not surprising that Canada has produced so many artists who excelled at painting snow in all its myriad forms. One of our most prolific and versatile artists is Michael Snow, but he didn't paint much of it. He's been maybe a little busy with his many creative ventures –  the "Walking Women" series, sculptures, multi-media installations, photography and film, playing jazz piano – to turn to snow as a subject. But dozens of others have picked up the slack.
Cornelius Krieghoff almost always included snow in his outdoor scenes, using the white as contrast against the vivid colour and detail which coursed through his paintings: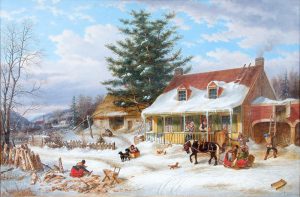 Quebec has always been hit with more than its share of snow, so it's little wonder that painters from there knew how to render it on canvas.
With his muted and sombre palette of colours, J.W. Morrice could make you feel the sting and dinginess of it. This painting makes you shiver a little: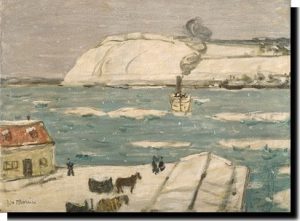 Clarence Gagnon makes you feel the cold of it too, but also brings a folkloric jollity to winter. This painting always makes me imagine jumping into a snowbank: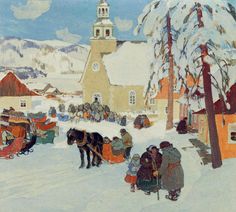 Maurice Cullen was also a master at painting winterscapes of small Quebec towns, and the example below is magical. You can feel the effort and strain of the horse pulling that sled uphill through the sludge. Cullen somehow captures the swirling mist of a blizzard, but his sure rendering of the warmly glowing interior light also conveys a cozy and intimate feeling that is deeply nostalgic, even though you weren't there. That's what great painting of this sort is all about: it takes you to a place you've never been before, yet one that seems strangely and almost comfortably familiar. Impossible.
In this gently rolling work, Albert H. Robinson gets at the odd relationship between sunlight and snow: how snow can make a sunny winter day seem not only brighter, but warmer too. He also catches the bluish shadows of the ruts and furrows in a very tactile way. All of his rustic winter scenes feature a horse and buggy and I thought I'd chosen the lone exception here. Then I noticed them off in the distance, tiny and dead-centre. Oh well.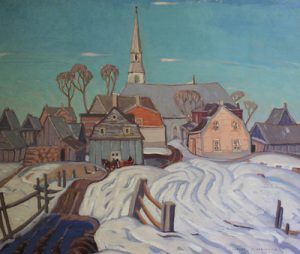 Paul-Emile Borduas was an abstract expressionist who used a lot of white, so his delicate paintings often convey the feeling of winter. The beautiful one below suggests for all the world a town that's been snowed under. His paintings, especially the stark compositions of forms in just black and white, have a kind of fragile, inevitable perfection in that you wouldn't change a single stroke. Or in his case, a single slash.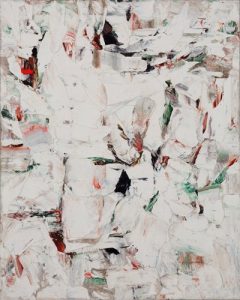 Tom Thomson needs no introduction. He almost exclusively painted landscapes and I'd forgotten that, while many of his most iconic ones don't include snow, he painted his share of it nonetheless. This one perfectly catches the weight of snow on the tree branches and the play of the shadows cast by them on the undulating, frozen ground below: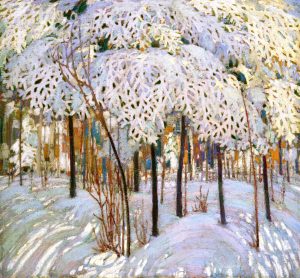 I could look at the painting below forever. Thomson gets the three-dimensional depth of the snow in the foreground with the shadows, and mirrors this in the clouds at the top. And in between a rolling forest, its colours riotous, yet somehow subdued. The thin blue ridge in the background ties it all together – although he often painted very hasty sketches, Thomson was also a master of composition.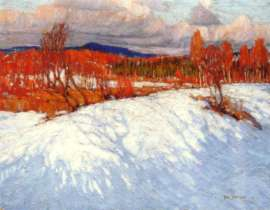 I'm not much for nationalism, I tend to agree with Samuel Johnson that "patriotism is the last refuge of a scoundrel." Nevertheless, Tom Thomson is at the top of the list of figures who make me feel proud to be Canadian. One could imagine a childish art argument between, say, a Frenchman and a Canadian. With maximum hauteur, the Frenchman might extol an endless list of great painters from his country – Monet, Matisse, Cezanne, Gauguin, etc. And the Canadian would inevitably shoot back with, "Oh yeah? Well, we have Tom Thomson, so there!"
David Milne was one of our most original and austere painters. He applied less paint to the canvas than any other artist I can think of, so that many of his paintings seem more like etchings or woodcuts. In his winter scenes he often let the canvas show through, placing colour thinly around the white spaces so that they become the snow. His delicate paintings capture the wraith-like ghostliness of snow seen from a distance, as here: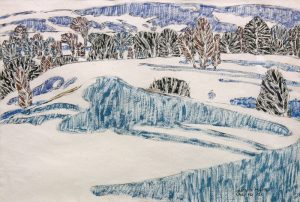 Lawren Harris was extremely original, powerful, prolific and versatile, and may have painted more snow than any artist ever. This came in at least three distinct phases. In his early days he painted many outdoor Toronto scenes, often of houses and often featuring snow as an element. Here is an example, one of my all-time favourite pictures: Red House with Yellow Sled. It looks like it was done very quickly; the vivid colour and coarse brushstrokes are reminiscent of Fauvist painters such as Vlaminck, or Dufy. But Harris's treatment of snow sets this picture apart: the mash-potato weight and shadows in the foreground, the way it hangs in the different trees, it teems with life and vigour: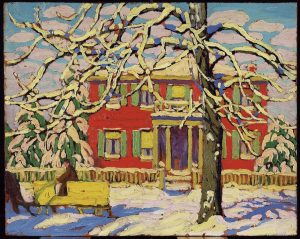 Next came his Group of Seven landscape phase. Here he captures the frosty clumping of snow in evergreens so evocatively that you feel you're there, or want to be: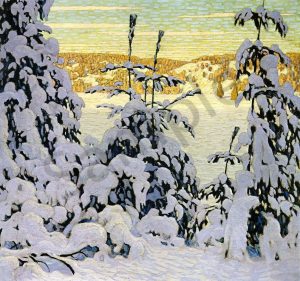 He's of course best known for his later Arctic paintings, both spartan and spiritual, abstract and super-real at once. He reduced things to minimal, almost simplistic geometric shapes, yet his virtuosity expressed with such poetic vision the fragile purity of what Glenn Gould called "the idea of North." There are many examples, but this one will do: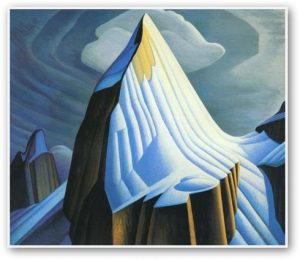 A.Y. Jackson was no slouch either, he has to be mentioned here. In this masterpiece he renders a stark, barren sight we've all seen many times, often driving by: dilapidated barns in rolling fields swathed with snow. It's a lonely, classic scene and he's frozen it in time for us, forever: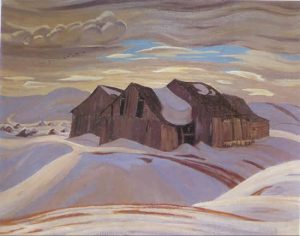 One of the most lovely things about snow is the stillness and silence of it falling; it's not only pretty, it's quiet. Jackson does the impossible here by conjuring this against an Algoma landscape. You can feel that, in a couple of hours all that colour will be covered in a blanket of white: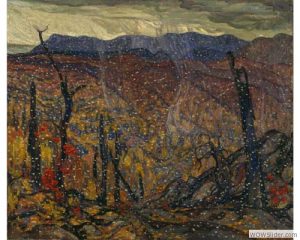 Lionel LeMoine Fitzgerald was based out of Winnipeg, where they know from snow. He was a painter's painter, under-recognized by the public but revered by his fellow artists as a marvelous practitioner and teacher. He worked in both watercolours and oils, and painted everything from outdoor scenes to still-life. Here is a great favourite, Doc Snider's House, which has an odd light-sepia glow and seems to sway with the delicate weight of the snow: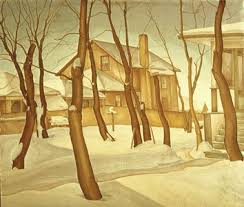 Albert Jacques Franck was known for his fine, loving "portraits" of Toronto houses – not grand mansions, but real houses where real people lived. They are extremely detailed and have a dejà vu feeling, especially for Torontonians. Sometimes they're a trifle dingy, as here in House on Isabella Street, so he often used the whiteness of snow to brighten his pictures. We've all seen it draped on and around houses like this thousands of times, but Franck's marvelous eye makes us take it less for granted: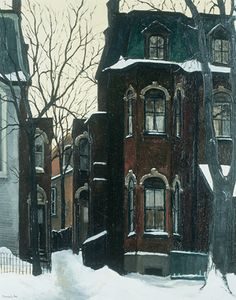 In putting this together, I came across paintings of winter by artists I didn't know, such as David Ledbetter. The blue of the sky, the clouds and shadowy snow here are very fine, worthy of membership in The Group of Seven: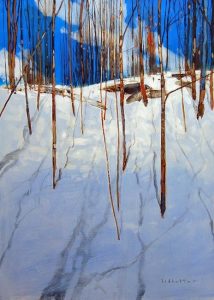 And Margaret Shelton, a painter from western Canada, also has it all going on in this watercolour of a Banff-area scene: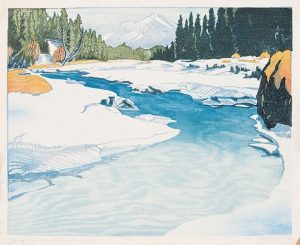 One final iconic painting of the Great White North – Phantom Hunter, by Blair Bruce. The fine detail of the mystical business in the foreground is impressive enough, but the snowy ridge in the background is perfection itself: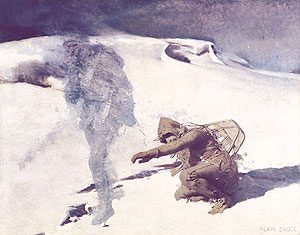 ***
"Set my compass North, I got winter in my blood" – Ibid.
On December 15, a blizzard struck suddenly about 3:00 in the afternoon, and by 4:00 visibility was zero. The Law Society's Christmas party was held on the premises that night and I was grateful that attending would delay having to head out in the driving snow. I stepped out for a cigarette about 7:30 and the blizzard had stopped as suddenly as it had begun, leaving a blanket of snow which wrapped the evening in silence. How strange; it had been whipping about in a frenzy just hours ago and now all was peaceful stillness. We're told not to believe everything we hear and I once saw a funny sign that warned "don't believe everything you think." At least the aftermath of a snowfall allows you to hear yourself think.
As I went back in, a lady was bundling up to go out. I said "the snow's stopped" and she turned toward me. I recognized her as one of the library's more demanding patrons and had a brief, inner moment of retro-adolescent panic – "Oh no, it's old lady Crabtree!" She expressed disappointment that the weather had calmed. "Oh drat, I was hoping to go out in it. I'll never understand people who don't like the snow and the cold. I love the winter, I grew up in Edmonton and blizzards remind me of my childhood. We looked forward to the snow, to going out and playing in it. We had such fun."
I saw her in an entirely new light and felt my attitude toward her softening. She was a person after all. I said I knew what she meant and we had a chuckle over the old saw about it being "too cold to snow". She said it was "often 30 below in Edmonton and it snowed like the dickens; so much for that theory." I bid her goodnight and thought to myself with a smile – Right. Only Canadians, and other people who live as far north, can wax nostalgic about the cold and snow, can say to winter "bring it on." And I thought of the Innuit, who have over 50 words for snow because it's such an integral part of their life. They don't take it for granted or resent it, they rejoice in its ever-changing beauty.
I'll leave off with the song by The Band which helped inspire – if that's the right word  – this little paean to snow. Musically speaking, I love everything about it: the wide bass-drums pocket provided throughout by Rick Danko and Levon Helm; the soulful vocals by Richard Manuel and Helm and the magic that happens when Danko's keening voice joins them in harmony; and the layering of extraordinary sounds in the background provided by Garth Hudson on various keyboards and synthesizers, summoning up bagpipes, fifes, and God knows what else. He never said a word, but was the sonic genius of the group.
And most of all, Robbie Robertson's history-invoking words, which tell the story of the Acadian diaspora in poetry. It's a tale of alienation told in terms of suffering and oppression, but also of cold and snow. Fitting for a band that was four-fifths Canadian. Merry Christmas, everyone.
© 2016 – 2017, Steve Wallace. All rights reserved.