With almost incredible suddenness, spring training is upon us once more, and not a moment too soon – hallelujah! This is comfort enough even for those who don't follow baseball much, a sure sign that spring is coming despite the fact that many of us are still a mite chilly. There's a palpable sense that the players enjoy it almost as much as the fans; many of them seem genuinely glad to renew old friendships and shake off the cobwebs of the off-season. Or winter, as the rest of us call it. But amid all this joy there is always grumbling from some quarters that spring training is, if not unnecessary, then at least overrated and certainly overlong.
This has been especially true in recent times, when sky-rocketing salaries have provided the motivation for ballplayers to work out regularly during the winter and report in tip-top shape. It's argued that many of them could play real games right now, a far cry from the days before free agency when most players were working stiffs like the rest of us and had to hold down winter jobs to make ends meet. Many of them sold cars or insurance or worked in factories; Richie Hebner famously worked as a gravedigger in his off-seasons. Whatever the job, the work tended to discourage much winter training, so many players would show up to camp ten or fifteen pounds overweight and use the sunshine games to work themselves back into playing shape.
Ex-Blue Jay slugger Edwin Encarnacion provided a fairly eloquent argument against the value of spring training last year. Owing to injury, he wasn't able to take part in a single Grapefruit League game, but he proceeded to have arguably his best season as a pro: hitting 42 homers and co-leading the American League with 127 RBI. Not that it did him much good; like many slow power-hitters, Edwin found the free-agent market for his skills much cooler than expected this winter.
By far the loudest argument along these lines was furnished eons ago by Pittsburgh Pirates' shortstop Honus Wagner, a.k.a. "The Flying Dutchman". In 1908, the 34-year-old Wagner gave spring training a miss entirely, then went out and had one of the all-time great seasons by a position player, and most certainly the best ever by a shortstop. Given the inverse relationship to baseball's annual spring ritual, and as a study in how much the game has changed, Mr. Wagner's 1908 exploits are worth a closer look.
Although Wagner's career ended exactly 100 years ago in 1917, he is still the consensus pick among baseball experts as the best shortstop ever to play. With the bat, the glove, or running the bases, he has not been unseated by such recent greats as Ozzie Smith, Cal Ripken, Robin Yount, or Derek Jeter, nor will he be anytime soon. In his prime from 1900 to 1911, he dominated the National League in much the same way Ty Cobb did the American League slightly later – with a hyper-productive bat and terrific speed/base-stealing. His overall offensive numbers suffer slightly in comparison to Cobb's, but Wagner was a far better defensive player at a more important and difficult position, and, having a much better attitude toward the game, he was a far more preferable teammate. Of course this isn't saying much in comparison with Cobb, who, as a holy terror and all-around horse's ass was one the most reviled ballplayers of his day or any other. But forget Cobb; considered on his own, Wagner was the most widely admired player of his time, beloved by players and fans alike even well after his playing days were over.
That Wagner was able to have such a dominant season after skipping spring training was a testament not just to his enormous talent, but also to his physical fitness. However, his superb conditioning is a side of Wagner that has been widely misunderstood through the years, for several reasons. For one, he had an odd, awkward-looking body: barrel-chested and thick through the middle, with short, bowed legs, very long arms, and massive hands. He had a very sure glove, tremendous range and reflexes and the best infield throwing arm of his time, but didn't appear very graceful at shortstop because of his oddly-proportioned body. His terrific speed – he stole 722 bases in his career – was also surprising given his stockiness. He didn't look like a great athlete, he simply performed like one.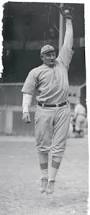 And secondly, toward the very end of his career, and particularly afterwards when he was a much-beloved coach for the Pirates, he developed a fondness for drink and put on some weight as a result. In his later years he loved to hang out in the many taverns near Forbes Field, drinking beer and talking baseball with fans and ex-players alike. He was happy to chat with any admirer who bought him a drink, and he didn't want for admirers. There's absolutely nothing wrong with that, but he developed the undeserved reputation of being an easygoing, beer-guzzling W.C. Fields "character", a semi-drunk who didn't take the game too seriously. For some reason this idea of him has persisted over time, bleeding into his overall image as a player. Here's Wagner still in uniform at age 65, three years after entering the Hall of Fame in its first year: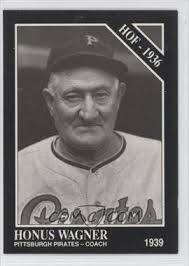 But in his prime, this Bacchanalian reputation couldn't have been farther from the truth: during his twenties and thirties, Wagner was baseball's first and biggest fitness fanatic and, appearances to the contrary, its greatest all-around athlete. He was the first to understand the value of stretching and weight training, developing his own complex system of exercises. He read up on calisthenics, aerobics and was a dedicated runner, he was light years ahead of his fellow ballplayers in terms of physical fitness. And he looked after himself: long before it was popular, he was a virulent anti-smoker. The reason his famous baseball card (see below) is the rarest and most valuable ever (fetching a record $3.12 million) is that it appeared in packages of Sweet Caporal cigarettes for only a short time until Wagner himself demanded that it be taken out of circulation. The Dutchman wanted nothing to do with promoting tobacco and feared that doing so set a bad example for young people – imagine a star athlete of today having such compunction, especially if it cost him any money.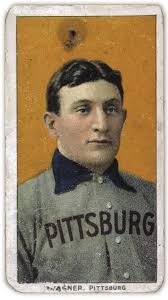 Though clearly no prima donna, Wagner was determined to give spring training a miss in 1908 for one simple reason: he hated it. This is easily understood when one looks at the conditions in place at the time. Spring training in 1908 was a far cry from what it is today, much more to be survived than enjoyed. It was conducted in roughshod conditions not far removed from those of a military bivouac. There were no lush complexes with multiple manicured fields, hitting machines or adoring fans. No air-conditioned workout rooms with weight machines, juice bars, trainers or other niceties. The heat and humidity were murder, the fields muddy and ill-kept, the training methods primitive at best – sit-ups and push-ups, tossing the medicine ball around, the heavier guys running in rubber suits under a broiling sun. And the accommodations were primordial. The players slept en masse on lumpy cots in huge canvas tents that let in the biggest plague of all: mosquitoes, which numbered in the millions as there were generally acres of swampland nearby. Illness, or even worse, serious disease from these pests was a constant threat, as were heat prostration and boredom, because there was no night life to be enjoyed. Fun times.
So Wagner was set on missing this Florida shindig, but despite being an established star, he didn't want to appear as though he expected preferential treatment. He hit upon the ingenious strategy of announcing his intention to take the entire year off, claiming that his body was worn down after a dozen years of play, and even hinting that he might actually retire permanently. He would enjoy raising chickens on his Carnegie, Pennsylvania farm, do some fishing and maybe play some basketball to keep fit. All of this drew a lot of press coverage and drove fans up the wall, as Wagner had had a great season in 1907. In reality it was a shrewd salary-holdout, all the more so because Wagner never actually asked for a raise. And it worked; team owner Barney Dreyfuss doubled Wagner's salary to $10,000, a figure the shortstop would receive annually for the rest of his career. He not only missed all of spring training, but didn't put on a uniform until April 17, in Cincinnati. He stepped out onto the diamond and proceeded to utterly dominate the game.
He led all of baseball in these key categories in 1908: batting average (.354); slugging average (.542, a whopping 67 points higher than the next-best figure achieved by Ty Cobb); total bases (308); hits (201); doubles (39), RBI (109); and stolen bases (53). For good measure, he also led the National League in triples with 19 – Cobb hit 20 in the junior circuit. He came very close to leading his league in the two other key offensive categories: home runs and runs scored. Wagner hit 10 home runs, which doesn't seem like many now, but remember this was the height of the dead ball era when home runs were much rarer. Runs were very hard to come by, pitching and defense utterly held sway, and a 3-2 score was considered a slug-fest. The only player in 1908 to exceed Wagner in home runs was Brooklyn first baseman Tim Jordan, who for the second time in three years led the National League with 12; nobody hit more than 7 in the American League. Hitting 10 or 12 home runs in 1908 would be like hitting 45 or 50 today. Wagner scored an even 100 runs, one off the National League best of 101, achieved by Fred Tenney of the N.Y. Giants.
This kind of across-the-board dominance – both in power and speed – was unprecedented at the time and still exceedingly rare, all the more impressive when coupled with his superb defensive play at the key position of shortstop. But beyond this, Wagner achieved these epic numbers during the most eventful, pressure-packed and wacky season baseball has ever known. Each league had super-heated three-way pennant races that went down to the final day of the season – Cleveland, Chicago and Detroit battling in the American League; and New York, Chicago and Pittsburgh in the National. Being a much older league with long-standing and bitter rivalries, the intensity of competition in the N.L. was particularly heated, the craziness capped off by the infamously controversial Merkle game between the Cubs and Giants. Throughout all this tumult, Wagner led the Pirates to a final record of 98-56 – tied for second place with the Giants, one game behind the Cubs. The Cubs went on to beat Detroit in the World Series, and as everyone knows by now this was the last WS victory for the Cubs before their 2016 championship. Statistically, Wagner had almost as good a season in 1909, but this time his Pirates captured the pennant and won the World Series against Detroit. Although his personal totals were down somewhat, no doubt the Dutchman much preferred the end result.
No less a baseball authority than Bill James considers Wagner's 1908 season the greatest ever in the context of its time, purely on statistical grounds. In the late 1990s after several decades of intensive baseball research, James arrived at a method for evaluating individual player seasons, which he called Win Shares. It's far too complex to explain here even if I fully understood it – which I don't, so I won't. Suffice it to say that there's a formula for pitchers and one for position players; each is very comprehensive and weighted for things like home-park effects and the statistical tendencies of different eras. The player version considers all aspects of hitting, defense, base-running and durability, expressing the value of a player's season in a single number.
Like many complex baseball metrics, Win Shares becomes easier to understand once the parameters and norms are familiar. A very good full-time player having a typically good season will usually have a Win Shares number somewhere in the 20s – for example, Derek Jeter had a WS number of 27 with the 1998 Yankees. MVP-type seasons generally begin at 30 and up – for instance, White Sox second baseman Nellie Fox won a surprise MVP in 1959, with a WS of 30. A great player having one of his best seasons will have a WS number somewhere in the 40s. Take 1941 for example: Joe DiMaggio had a 56-game hitting streak and won the AL MVP with a WS number of 41. The same year in the same league, Ted Williams hit .406, didn't win the MVP, but had a WS number of 42. Only a handful of players have had seasons which crack the 50 WS mark. Williams did it once, in 1946, and Mickey Mantle did it in 1957. Babe Ruth did it three times – in 1920, '21, and '23. Honus Wagner managed it once, but with the highest WS number of all time – 59, in 1908.
Think about this for a minute: James considers Wagner's 1908 season better than the year that Ruth hit 60 home runs, or any of the mammoth seasons enjoyed by Williams in the 1940s, or Mantle in the '50s, or any Triple Crown season in history. It's not a statement James makes lightly, but he has forgotten more about baseball than the rest of us combined will ever know. So if he says Wagner's 1908 season is the best ever, well……that's good enough for me. And just to show that his great season was no fluke, Wagner's WS numbers in 1907 and 1909 were in the mid-forties. Honus Wagner was one of those rare players whose peak came quite late – between the ages of 33 and 35.
It makes for a good story and gives one pause, but the sheer magnitude of Wagner's great 1908 season is too extreme to serve as an argument against spring training, or anything else for that matter. It simply is – Wagner is one of the immortals to whom the usual rules do not apply. At any rate, spring training has evolved and continues to be an integral part of baseball, and that's a good thing. If there is a lesson to be learned here, it's that spring training should not be taken too literally, but rather enjoyed as a leisurely, sun-drenched prelude to the long, long season ahead. It allows fans to gradually build their anticipation and get acquainted with the changed landscape of who's playing where, and with what team. But it has zero predictive value as an indicator of how a team or a player will fare during the real season.
While it no longer seems necessary as a fitness-building process, spring training has other uses. It allows time to evaluate young talent, to maybe build a bullpen, to solve some of the mystery questions all teams face. Like who, if anyone, will play left field for the Toronto Blue Jays this season? It also allows players to rehab from injuries, the downside being that often these injuries are sustained during early springtime exertions – witness Michael Saunders and Marcus Stroman a couple of years ago, and Josh Donaldson now. Yikes. Spring training giveth and it taketh away, but for God's sake let's not take it too seriously.
So in a month from now if you hear a baseball fan gush, "Look out for the Padres, they're 17-2 this spring!" Or, "Melvin Upton Jr. is red hot in Florida, he's hitting .658 with 10 homers so far!", take the enthusiasm for what it really is: an anxious impatience for the real games to begin. And sprinkle a few more grains of salt on your French fries, they'll go down easier.
© 2017, Steve Wallace. All rights reserved.