A while back my good friend Bill Kirchner emailed me an article called "Lead Player", written by William Whitworth and published in the December 10, 1969 issue of The New Yorker. It was both highly entertaining and very informative in considering trumpet playing generally while also serving as an in-depth profile of one of the greatest lead-trumpeters ever, Bernie Glow.
Whitworth begins by pointing out the physical toll that playing the trumpet can exact, citing instances of lead players blacking out from holding long notes at slow tempos, or suffering other occupational hazards such as bulging neck disks, hiatus hernias, sore backs and aching legs, all brought on by the duress of forcing air through a tight metal tube with maximum exertion. He also points out that trumpeters tend to amaze one another, forming a tight brotherhood of mutual admiration based on shared knowledge and empathy about just how hard playing the trumpet is. And that within the pecking order of this fraternity lead trumpet players are held in the highest regard for their rare combination of – among other things – power, control, technique, range, and stamina.
In a straightforward style featuring a refreshingly dry sense of humour, Whitworth moves on to a look at the demands of playing lead trumpet, using Bernie Glow as a lens. Glow was a first-call lead player on countless jazz and commercial records made by studio-assembled big bands in New York from about 1953 through the '70s – the peak of all recording peaks. He's no stranger to jazz fans of a certain age, but his very ubiquity meant he was often taken for granted except by his fellow musicians. And because he always worked as a sideman and wasn't a jazz soloist, not much was known about him until this article remedied the situation.
Glow was born February 6, 1926 in New York and grew up in the Bronx, also playing a lot in Brooklyn as a teenager. His career was more or less preordained and planned for him by his maternal grandfather, Sam Finkel, who had been a musician in Europe and in the Yiddish theatre in New York. Without consulting either the young Bernie or his parents, Finkel announced that one day the boy would become a great first trumpeter with one of the major orchestras. Beginning when the boy was nine, Finkel arranged lessons for him with the very best: Max Schlossberg, first trumpet with the N.Y. Philharmonic and the greatest teacher of his day, followed by further lessons with two of his distinguished former students, Harry Glantz and Nat Prager. This is rather like the stories about scions of aristocratic English families being "put down" for Eton or Harrow at birth by their fathers.
The young Glow applied himself to his lessons assiduously and early on showed signs of precocity. By 16 he was on the road playing lead in the commercial dance band of Richard Himber and followed this with stints in the bands of Raymond Scott and Xavier Cugat. As word of his prowess spread he played lead in the more challenging jazz setting of big bands led by Artie Shaw (1945), Boyd Raeburn (1946), and from 1947-48 in Woody Herman's Second Herd, which included a powerhouse trumpet section and was renowned as one of the great ensembles in jazz history.
Then, in 1949, at all of 23, Glow retired from the road permanently and returned to New York, settling into three years of freelancing with all manner of bands in a staggering range of styles and settings: Latin, commercial, jazz, classical ensembles, radio, theatres, dance halls. This was the final stage of his apprenticeship and by the time he was 27 he had played in more styles than most trumpet players encounter in an entire career. Word of this versatility spread and Glow settled into a busy free-lance recording career as New York's first-call lead trumpeter, often doing three sessions a day.
As well as Whitworth writes, perhaps the best part of the article is Bernie Glow talking about his craft in his own words, as follows:
"First of all, the lead player has got to be able to play the
instrument with a good, big sound," Glow said. "He's got to have a
good high register. He's got to have endurance. Above all, I think,
he's got to understand what a melody line means when he plays
it–whether it's supposed to mean something syrupy and Guy
Lombardo-ish or supposed to be something gentle or something
swinging. A first-trumpet player's job is to look at a piece of paper
and make it sound like music. It's a piece of paper with black dots on
it, and of itself it's not music, and if it's played by the wrong
people it'll never be music. It's a matter of interpretation. There
are dozens of trumpet players in New York who can play as high as I
can, or higher. Or who can play as strong as I can–though, in all
frankness, there are very few guys in town who can play as strong as I
can or as long as I can. I never reach a point where my lip is so
tired that I just can't play anymore. But what you have to do is play
music. Some people play the trumpet instead of playing music. There
are players who are technically marvelous but get so wrapped up in
playing technically marvelously that they ignore the fact that the
only purpose in playing that well is to play music. The playing of the
instrument is not the end. To me, that's the basic difference between
a great musician and a good one. There are musicians in New York who
do pretty well because they never hit clams– you can't put anything
in front of them they can't play. They have all the qualifications.
But they just don't have any musical sense. They never sound as if
they understand what they're playing. They play it perfectly, but
somehow it just doesn't add up. All those perfect notes don't add up
to a song.
Beyond this, there's a certain attitude that's necessary for the
lead player–toward the men he's working with and toward the leader. A
man can't be a good lead player if the fellows he's working with don't
respect him. If they don't respect him, they're not going to
cooperate, and you can't browbeat people into playing music. Music is
not that sort of animal. You shouldn't, ordinarily, have to say a
word to the other guys if the music is fairly well written. They
should listen to you and play with you. Your interpretation is
definitive. Of course, sometimes the music is not plain enough. Or
sometimes arrangers will mark phrasing on the music that turns out to
be the opposite of what is required to make it fit with the rhythm
section. When this happens, the lead player will ignore the markings,
and nine times out of ten the arranger will look up and say, "Gee,
thanks. Beautiful. It's just what I had in mind."
Regardless of instrument, that's as cogent and honest a statement about music-making as I've ever read. The next time you're listening to a jazz record made in New York from the early fifties on with a big band – such as one of the Gil Evans-Miles Davis collaborations – listen for the lead trumpet. Chances are it's Bernie Glow, and you won't hear it played any better.
                                                              ***
The piece about Glow got me to thinking about the many good trumpet players I've been lucky enough as a bassist to have worked with through the years. I've grown close to and liked a lot of them because I love the instrument and admire how they've overcome the difficulties of playing it. Often this has been mutual, maybe because many of the trumpeters I've played with recognize a fellow workhorse when they see one.
At any rate, I've collected a few choice trumpet stories over the years and would like to share them. I was present for a couple of them, others I heard over the years on breaks or road trips. With the exception of the first one they are comic in nature.
The first is about Arnie Chycoski, who was the best lead trumpet player I ever worked with. He played lead with the Boss Brass and pretty much everybody else, and had everything on the instrument – tone, range, pitch, taste, endurance, a terrific sense of time, plus he was a sweetheart of a guy. He was built like a bull and a natural, and would often warm up first thing in the studio by playing some insanely high notes right away and announce, "Okay, I'm ready". Meanwhile all the other trumpet players would be holding their mouths in agony – "Arnie, don't do that!!" With typical and affectionate acerbity, Rob McConnell once said Arnie was able to do this because he was "too dumb to know better" and there was some truth to this. Not that Arnie was dumb – far from it – but he had a simple, no-frills attitude toward his job. He liked being a lead trumpet player and was good at it, so he saw no need to overthink it.
Anyway, on to the story, which speaks to his great stamina and strength as a player. One time in the mid-nineties The Boss Brass was scheduled to make a record in four sessions stretching over two days in the big room at the old Manta studios – from 9 to 4 on a Monday, and from 2 to 9 on the Tuesday. We'd played three or four nights in a club the week before then had the Sunday off, so we were all ready and raring to go. I forget which tune it was, but the first chart we tackled on the Monday morning had a part where Arnie had to play some very high passages up there in the stratosphere. I remember thinking it was a bit early for that sort of thing, but he nailed them no problem, as usual.
We were in fine fettle and getting quite a bit done when early in the afternoon during a break it came out that there was a scheduling goof in the offing. A full orchestra was coming in for a session the next morning, which meant the studio hands would have to tear down our setup, set up the orchestra, then tear down and reset for us in the afternoon. It wasn't really our problem, but Rob, who must have taken some "nice pills" that day, offered a provisional solution. If the brass player's faces were up to it, we could take a break and come back to finish the album that night. He put it to the band and as nobody was working on a Monday night, everybody was up for it. So we took a long break for dinner and came back around six and finished the album by about ten or eleven that night. The last thing we did was a long, fast flag-waver that Arnie had a fiendish part on, finishing with some double-high Ds or something. Nobody thought he had the face left for it, but he managed it without a hitch, in one take. As he put it, a good thing, because he probably didn't have another take in him. We all felt really proud to have managed this, but especially proud of Arnie. He'd been Herculean, starting and ending the marathon session playing some hairy high-note stuff with no fall-off in power or assurance. It's the greatest show of endurance I've seen from a lead player and although many others have probably pulled this kind of thing off, witnessing it in person is something I'll never forget.
This clip of The Boss Brass features Alistair Kay on trombone, but contains some nice close-ups of Arnie practicing his art, along with some bassist who looks to be about 14:
                                                                    ***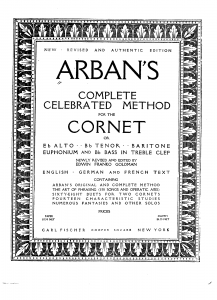 One time on a California tour the Boss Brass was playing a few nights at Donte's in North Hollywood. On a night off, some of the trumpet players joined L.A. lead player John Audino in going to hear the virtuoso trumpeter Al Vizzutti at a club in the Valley. When they arrived they were amazed to see Freddie Hubbard at the bar. Audino introduced Freddie to the rest of the guys, to whom he was very friendly. So they heard a set of Vizzutti – dubbed by many "The Arban Cowboy" – doing his high-note Latin-jazz-fusion-funk bit. When the set ended Al went over and shook Freddie's hand, saying how nervous it made him to play in front of one of his idols. Freddie was cordial to him, telling Al he had nothing to worry about what with the way he could run the horn. Al tried to go all modest, saying, "Freddie, I'd trade in all my chops just to be able to play one of your solos." Having set up the kill, Freddie went for the jugular: "Kid, you ain't never gonna play one of my solos!" The truth can be cruel, but sometimes it must be told.
                                                                    ***
Guido Basso is one of the most revered trumpet/flugelhorn players Canada has produced, renowned for his mellifluous sound and melodic grace. When Guido was a young man Louie Bellson and Pearl Bailey took him out on the road with their touring band, a great kick-start to his career. One time they made a big band record date in New York and included Guido as a soloist even though few knew about him at that point – they figured it would be a good experience for 'the kid', who was maybe 20 at the time. So there he was in a studio playing in a trumpet section made up of his idols – Harry "Sweets" Edison for sure, and probably men like Bernie Glow, Ernie Royal and Clark Terry – wow. He had a brand new Harmon mute and Sweets admired how shiny it was. Guido said, "Yeah, it looks nice but I can't get anything funky out of it the way you can, Sweets." So Sweets took a look at it, dropped it on the floor and stomped on it a couple of times with the heel of one of his expensive shoes and handed it back with a couple of sizable dents in it. "Here, try it now" he rasped.
                                                                  ***
When I attended the Humber College Jazz program in 1975-76, there was a really talented lead player there named Rick Waychesko. He was a natural, almost a freak – powerfully built with a face of steel, he could read great and play high-note stuff like Maynard Ferguson, even almost like Cat Anderson. He reminded me a bit of "Pigpen" from PEANUTS, he always looked like he'd just got out of bed and he was the kind of guy you feared might blow out his lip. Anyway, years later, Ron Collier, who taught at Humber, was putting on a big band concert of Ellington music for the Duke Ellington Society of Toronto. Ron was originally a trombonist and like many who play that instrument he went on to become a talented arranger-composer, one of Canada's best. He studied in Toronto with Gordon Delamont and in New York with Hall Overton and had been very close to Duke for years. In fact, Duke hired Ron after Billy Strayhorn died to be his assistant, music librarian and to do some orchestrating. So Ron was on the road with Ellington for a while and knew his music inside out.
Although I did a few of these Ellington projects with Ron, I wasn't on this one; some friends who were present told me the story. At a rehearsal they were playing one of the earlier Duke things and Waychesko was playing a part marked "plunger" on open horn. So Ron stopped the band and said, "Rick, man. What are you doing? It says plunger." Rick answered sheepishly that he didn't have a plunger with him and Ron went off on him, as only he could. "Whaaattttt? You call yourself a professional and you don't even have a goddamn plunger with you?" Etc., etc. It was getting pretty tense and Rick was all blushing when Ron asked, "Shit, man – what do you do at home when your toilet gets blocked?" To which Rick muttered, "Gee Ron, I usually use the Harmon mute for that" and the room just exploded with laughter. Including Ron, his shoulders started to shake and he just fell apart, called a break and busted out some Scotch he'd brought. I wish I'd been there.
                                                                       ***
The trumpet has several cousins – the cornet, the flugelhorn (often a trumpet double) and the valveless bugle, most often used in ceremonial military settings. There's also the piccolo trumpet and the bass trumpet, which is essentially a trombone masquerading as a gigantic trumpet. The only musician well-known for playing the bass trumpet was Cy Touff, who played in Woody Herman's mid-fifties band and made a few records on his own. One of the strangest brass experiences I ever had involved the bass trumpet in a one-off concert by a short-lived band called The Hogtown Trumpets, "Hogtown" being an old-time derogatory nickname for Toronto. Three of the "trumpet players" were trombonists from The Boss Brass – Ian MacDougall, Rob McConnell, and Bob Livingston – all playing rented bass trumpets, plus three or four regular trumpeters and a rhythm section. It's rare to see even one bass trumpet, never mind three, so the band looked a lot odder than it sounded, resembling some kind of bizarre Cy Touff fan-club reunion. The funniest part was that they were all pretty big guys but they all looked smaller playing these huge, quite weighty horns. I remember them all being tired just from holding them for an hour, and McConnell, a stickler for intonation, complaining about how hard they were to play in tune. The gimmick was the brainchild of Hogtown's leader Ian MacDougall, a great trombonist/arranger and a big fan of Bill Harris's trombone playing and surreal sense of humour. Like a lot of Harris's visual gags, Ian's proved to be too much trouble to sustain itself, but it was fun while it lasted.
To give some idea of how the bass trumpet sounds (and looks), here's a clip from Cy Touff's best and most famous record, done in December of 1955 for Pacific Jazz. The tune and arrangement are by the great Johnny Mandel and the band consists of Harry Edison and Conrad Gozzo (trumpet), Touff (bass trumpet), Matt Utal (alto and baritone saxophone), Richie Kamuca (tenor saxophone and virtually a co-leader here), with the rhythm section of Russ Freeman (piano), Leroy Vinnegar (bass) and Chuck Flores (drums). And to think they said West Coast Jazz didn't swing:
The afternoon rehearsal for the Hogtown Trumpets concert was at MacDougall's Leaside house and occasioned one of the great one-liners I've ever heard. A rehearsal at Ian's place was like a party, nobody ever left without being half in the bag. He might start out with a pitcher of martinis before anyone played a note, then break out some beer on the break. And afterward always offered a couple of flagons of red wine for the road, or the ditch. Of course we never wanted to disappoint him.
So on the break at this rehearsal we were all sitting around the kitchen drinking and gabbing, while Ian went through the day's mail. He tossed aside the bills but his eyes widened when he saw an envelope from the Ontario Opimian Society, which, being a big wine buff, he'd belonged to for years. He opened the letter, said "Eureka!" and dashed downstairs, returning with a bottle of French wine. "Great news, fellas, I bought 12 cases of this fabulous Bordeaux a few years ago and the letter tells me it's ready for opening today!" McConnell grabbed the bottle and looked at the label with a puzzled expression. "Ahh, Ian…. call me crazy, but haven't you served this wine here before?" "Yeah", Ian replied with a grin, "It's my last bottle." What a host, and what an ace.
                                                             ***
Many of the trumpeters I've known well have been Torontonians, but Sweets Edison and Warren Vaché are two American players I got close to over the years. Sweets is gone now but a few years ago Warren, who actually plays the cornet, told me this story they both feature in. Years ago Warren was in L.A. and took Sweets out to dinner and a number of bars with an ulterior motive, hoping to press the older man for some playing advice. They ended up back at Sweets' place and Warren said, "Okay Sweets, I figure I got you drunk enough that you'll tell me – what's wrong with my playing?" Sweets tried to dodge the question but when pressed, said "Vach, you have a beautiful sound and plenty of chops and you know hundreds of songs, but, well…. you've got to learn to put a goddamn period at the end of the sentence". In other words, simplify, don't just play a bunch of notes. Make a statement, then finish it and move on to the next and finish that. Tell a story.
Warren told me this was good advice for him, and it might be for other trumpeters as well. The trumpet will always be a beast to play, but the challenges of playing jazz on it have grown exponentially due to the recent ascendancy of the saxophone in jazz, particularly the tenor. These days trumpeters are expected to be able to keep up with the post-Coltrane saxophone world in terms of endurance, running changes, playing fast, complex lines with lots of notes and so on, all on an instrument with just three valves instead of a bunch of keys and buttons. By dint of talent and hard work, many trumpeters have managed this and I salute them for it. But, while I often like what I hear from the instrument today, sometimes it seems trying to play more like a saxophone comes at the expense of a trumpeter's tone, personality, and certainly of contrast within a small group. The latter was something Miles Davis was always keenly aware of; in his various quintets Miles always had muscular saxophonists who played a lot of notes to serve as a foil to his more fragile and lyrical approach. Trumpeters might do well to keep this in mind and play more sparsely and simply – but with more impact – opposite a more Olympian saxophonist. It may sound as though I don't like the saxophone or think that it's easy to play, but neither is true. I love the saxophone and while I think it's easier to play than the trumpet, I realize that no instrument is easy to play well. It's just that I fear the growing hegemony of the saxophone may push the trumpet aside, just as it did the clarinet and the trombone, two instruments rarely heard these days outside of larger groups. So when I do hear a trumpet these days, I want it to sound more like, well….. you know, a trumpet.
One of the pleasures of turning to jazz of the thirties and forties is to hear the trumpet played as it was before all of the above started to happen, when the instrument was a key voice, Indeed, when it was king and sounded like it. When it wasn't so much about speed but rather majesty, rhythmic impact, purity and individuality of sound. The music was awash in trumpeters with great time, outsize personalities and pithy melodic ideas, men who projected heat, romantic imagination, bravado, puckishness and, above all, who delivered an emotional wallop. The trumpet has always been a heroic instrument but back then it was played more as such. Trumpeters in that age delighted in things that were unique to their horn, such as smears, glissandos, bent notes, the colouration made possible by various mutes and by the actual valves themselves.
There are countless examples, but I'll leave with two that demonstrate what I mean. A saxophonist would never play this way, because the saxophone can't sound like this:
And definitely not like this:
© 2017 – 2018, Steve Wallace. All rights reserved.