The series continues with a look at the great swing veteran Sid Weiss and three guys who are mostly overlooked, despite (or maybe because of) playing bass with famous big bands – Junior Raglin and Ernie Shepard with Duke Ellington, and Eddie Jones with Count Basie.
5. – Sid Weiss. If a soundtrack of The Swing Era was ever assembled, Sid Weiss would be playing bass on more than his fair share of it. He played with four key big bands – Artie Shaw (1938-9), Tommy Dorsey (1940-41), Benny Goodman (1941-45) and Charlie Barnet (1943) – as well as short stints with Jerry Wald, Bunny Berigan and others. He also did a lot of freelance recordings, some of them very notable. A person can only be in one place at a time, yet from 1935-45 Weiss seemed to defy this, he was all over swing music of both the big and small band variety.
And yet he's almost completely forgotten now. Some of this has to do with playing bass in a big band, a sure ticket to anonymity because of the sheer numbers involved and the hierarchy of the Big Band Era star system. Highest up were the leaders, who were like royalty and often had names that reflected this – Duke, Count, The King of Swing etc. Then there were the star soloists, who were often leaders in waiting. For example, Benny Goodman's earliest bands hatched such future leaders as Bunny Berigan, Harry James, Gene Krupa, Teddy Wilson and Lionel Hampton. The singers naturally attracted some attention, leaving the section guys further down the totem pole (though in those crazed fan-club days, even some of these guys were fairly well-known.) Among the sidemen, bass players and rhythm guitarists were down fairly low in the pecking order, generally below pianists, drummers or even third trombonists.
So, in spite of how much he worked and with whom, looking up Sid Weiss online yields the same skimpy thumb-nail biography/profile on various websites. His date of birth and death, a list of big names he played with and that he retired from full-time playing around 1957 (at just 43), without mentioning why or what he did with the last 35 years of his life, it's frustrating. The man took part in 340 recording sessions or live remotes mainly between 1934 and 1957, yet rates only one measly mention in Richard M. Sudhalter's 890-page tome, Lost Chords, White Musicians and Their Contribution to Jazz, 1915-45, which is ridiculous. Don't get me wrong, it's a meticulously researched and very well-written book, worth reading, but one mention for Sid Weiss is just wrong.
It's not that he was a bass pioneer or a big innovator or anything, he wasn't, I don't harbour any illusions along those lines. It's just that he was one of the very best and active bassists of his time, a cut above most in terms of technique, time, musicianship and versatility. He was to the bass what Jess Stacy, Joe Bushkin or Johnny Guarneri were to the piano, what George Wettling, Nick Fatool or Cliff Leeman were to the drums, what Allan Reuss, Carmen Mastren or Dave Barbour were to rhythm guitar. Functional, reliable, technically assured, yes – but with something beyond the mere solid – Weiss and these others (many of whom he often played with) had some grace and distinctiveness on their instruments, some style. Their precision and competence paid off in big bands, but their more artistic, jazz qualities shone brighter in small-group settings. This was particularly true of Sid Weiss, more on this later.
We often arrange complex information into simple patterns to form images, which help us to better process it and for a long time I did this with Weiss, lumping him in with a group of similar, contemporaneous white swing bassists – Artie Bernstein, Artie Shapiro, Hank Wayland, Bob Haggart, Mort Stuhlmaker, Bob Casey, all of whom did the same kind of work, traveled in similar circles. All of these men were good; Bernstein, Haggart and Shapiro in particular shared Sid's effectiveness in both small and big bands, with the others it was mostly one or the other. It's not a contest, but after many years of listening, the quality and sheer volume of playing Weiss did with such a wide range of people has made him stand out, for me he had a little more depth and musical range than these other bassists, with the possible exception of Haggart. But Haggart's celebrated arranging skills, his oft-recorded song "What's New", his noted duo record of "Big Noise From Winnetka" with Ray Bauduc and his later co-leadership of "The World's Greatest Jazz Band" with Yank Lawson all made him something of a star, he's nowhere near as unsung as Sid Weiss.
Weiss was born in Schenectady, N.Y. on April 30, 1914, and studied clarinet, violin and tuba while quite young, switching to bass in his teens. He studied with the principal bassist of the Washington, D.C. Symphony, which showed because his technical grounding was very good – his intonation, sound production, articulation and bowing were expert, plus he was a natural-born swinger. He moved to New York City in 1931, continuing to study bass while beginning to work professionally with Louis Prima, Connee Boswell and pioneering bass saxophonist Adrian Rollini. In 1935, Weiss became a regular with trumpeter Wingy Manone's hot little swing group featuring clarinettist Joe Marsala and some of his earliest recordings were done with them on July 5. Sid was just 21 and it's instructive to compare these to earlier Manone sessions from that year – newcomers Weiss and guitarist Carmen Mastren make their presence felt immediately with incumbent drummer Ray Bauduc, lifting the band off the ground so that it seems to float. Weiss remained with Manone through 1936, often playing at Rollini's Tap Room. This group recorded seven sessions in all; with guest stars like Bud Freeman, Jack Teagarden, George Brunies and Johnny Mercer aboard on some of them, Weiss was being heard in some heavy company, becoming established.
Weiss quickly became a part of the New York freelance recording scene, known for his versatility, reliability and especially noted for his deep, clear sound, which recorded very well and easily. From 1934-38 he made many sessions with Connee Boswell, Rollini, Tommy Dorsey, Red McKenzie, Charlie Barnet, Miff Mole and Paul Whiteman. He worked with the Marsala brothers' fine swing group in 1936-7, when they played the Hickory House and later the Famous Door on 52nd Street, packing in big crowds of enthusiastic swing fans. Pictures of Weiss from this period show him cutting a dashing figure, he was a natty dresser and his receding wavy hair, mustache and wire-rim glasses make him look quite a lot like David Niven.
Weiss joined Artie Shaw in 1938 just as his band was becoming really popular and remained through 1939. He plays on some of the band's most famous records – "Nightmare", "Indian Love Call", "Back Bay Shuffle", "Moon Ray" and the smash hit "Begin the Beguine", which made Shaw a mega-star and altered his life forever, whether he liked it or not. Weiss and Buddy Rich both left Shaw for Tommy Dorsey's band, arriving in early 1940 around the time that Frank Sinatra did. Weiss did a lot of touring and recording with Dorsey during this peak, but left the band in September of 1941, electing not to join them on an extended stay in Hollywood.
Soon after this, Weiss joined Benny Goodman for several stints between late-1941 and 1945; he would become a B.G. favourite, especially in his small groups. He made a bunch of terrific Columbia sides with Goodman's Sextet in 1941 (featuring Lou McGarity on trombone and Mel Powell on piano) and with his Quintet in 1944 (featuring Red Norvo and Teddy Wilson.) Sid returned to the fold in 1950-52, recording with Benny's various Sextets, which often included Terry Gibbs on vibes, Wilson, Mundell Lowe on guitar and the great Don Lamond on drums. During the war years, Weiss was also part of several USO bands which entertained American troops overseas.
He was with Charlie Barnet's band for a time in 1943, in fact he and Oscar Pettiford played bass together with the band for a while. This may have been inspired by Duke Ellington's use of two basses in the 1930s, Duke was Barnet's idol and main influence. Speaking of which, Weiss recorded as a guest with Ellington's band for RCA Victor on May 15, 1945, playing on two numbers – "I Let A Song Go Out Of My Heart" and "Solitude".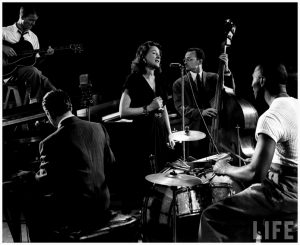 As mentioned, Weiss took part in some notable small-group sessions in the '40s, becoming part of the circle of musicians associated with Eddie Condon and Milt Gabler's Commodore label. In 1940 he played on one of the sessions for Lee Wiley's important (but often hard to find) Liberty Music Shop records. These were the very first "songbook" records, dedicated to eight songs each by George Gershwin and Cole Porter; Weiss plays on one of the Porter sessions with Bunny Berigan, Joe Bushkin and George Wettling. Wiley was a unique, wonderful singer, the only one tolerated by the Condon mob. She was also something of a femme fatale who had affairs with both Berigan and Wettling around this time, though probably not simultaneously. The music here is delightfully intimate yet freewheeling, barrel-house and penthouse, just the way Wiley liked it.
One of the best sessions Weiss played on was Pee Wee Russell's "Take Me To the Land of Jazz" quartet date for Commodore in September 1944, which yielded four tunes, with alternates of each. This was one of Pee Wee's greatest records, very unique because it features his clarinet as the only horn, instead of in the usual front line of trumpet, trombone etc. It has almost a cool, chamber music quality and the rhythm section is fabulous – Jess Stacy, Weiss and Wettling – perfectly attuned to Russell and each other. They're a model of taste and musicality; there's a lot of counterpoint and interplay between Stacy and Russell, Weiss and Wettling (mostly on brushes) keep out of their way while moving the music ahead with a loose and gentle momentum. Weiss and Wettling have a lovely, balletic duet on "Keepin' Out Of Mischief Now", trading fours for a chorus. There are three takes of the slow "D.A. Blues" featuring some of Russel's best ever blues playing and Sid is very interactive on these, moving the pulse ahead with counter-melodies, skipping lines and punctuations. These sides are a great example of what jazz, group playing and swing are all about and are a must-have for those who like Pee Wee. For those who don't, well…..go ahead and jump.
Sid made similar sessions in these years with Art Hodes, Rex Stewart, Muggsy Spanier, Bud Freeman, Gene Krupa among others and was a regular on Condon's Sunday Town Hall (and later Ritz Hotel) broadcasts, alternating with fellow bassists Bob Casey and Jack Lesberg. Three sessions Weiss did for the Hot Record Society (HRS) label stand out for me and bent my ear to what a special player he was, so I'll discuss them in some detail.
HRS was a small independent jazz label along the lines of Commodore, run by Steve Smith as an adjunct to his record shop; he was an avid collector and swing fan who particularly loved Ellington's band. The label was sporadically active from 1938-40 and 1945-47, producing very informal, creative mainstream swing from groups ranging from four to eight players, often in combinations that didn't play together regularly at all. HRS had its own Eddie Condon in the person of Brick Fleagle, a rhythm guitarist, arranger/composer, busy music copyist and general character. He was close friends with Rex Stewart, which brought him into the Ellington circle; he did some arranging and copying for Duke. He's often on HRS dates as a rhythm guitarist, also contributing original tunes, arrangements and booze (these sessions often began with a bottle or two being passed around.) Some of the music is decidedly Dukish in flavour, occasionally featuring Ellington sidemen such as Rex Stewart, Barney Bigard, Ben Webster, Lawrence Brown, Johnny Hodges, Harry Carney and ex-Ellington bassists Wellman Braud and Billy Taylor.
Sid's first session for HRS is from November 5, 1945, with Sandy Williams' Big Eight, and is very Ducal in character. The odd thing about this date is that Williams is the leader in name only, has very little impact on the music. He was one of the best trombonists of the 1930s, a star soloist with both Fletcher Henderson and Chick Webb, but heavy drinking had taken its toll on his playing over the years and this may be why he's not more featured here. The rest of the front line consists of Hodges on alto, Carney on baritone and the golden-toned trumpeter Joe Thomas; outside of Louis Armstrong, I've never heard anyone make a more pure, gorgeous sound on the horn. The rhythm section has Fleagle on guitar, Jimmy Jones (the "man who played guitar on piano" and who would later become a part of Duke's inner circle), with Weiss on bass and a very young Shelly Manne on drums.
The music is very colourful and original, with great ensemble work and some wonderful solo moments. There are two ballad features for Hodges – altoist Tab Smith's pretty "Mountain Air" and Fleagle's "After Hours on Dream Street", both of which sound as though Ellington or Billy Strayhorn might have written them for Rabbit. My favourite track is Fleagle's "Sumpin' Jumpin' Round Here", a medium-tempo bounce tune making fantastic use of Carney's cavernous sound to anchor the theme. Thomas and Hodges trade eights and fours, Williams and Carney each play a bridge and Sid's graceful solo spot has wonderful backing by Jones and Manne, who sounds a lot like his idol Dave Tough throughout. The session concludes with Carney's "Chili Con Carney" which really swings and has solo space for each of the horns and some drum breaks.
As for Weiss, I was immediately struck by the depth, resonance and clarity of his sound here and by how much lift his quarter-notes have; their length and spacing are perfect and seem to buoy the band without any strain. His rare solo turn on "Sumpin'" is really musical too. He's not really a fast, linear player (probably because his strings are set so high to achieve a big sound) but he's not just a thumper either. He plays short, jabbing melodic phrases with spaces and rhythmic interjections that fit perfectly into the overall fabric of the music that's being played here, he's stylish without being virtuosic.
His next HRS session was done on June 3, 1946, also by the Sandy Wiiliams' Big Eight, with the same instrumentation but different players altogether – Pee Wee Erwin on trumpet, a gutsy Tab Smith on alto and Cecil Scott on baritone. The rhythm section is the same except Denzil Best plays drums. The tunes are not quite as distinctive or special, but the playing by all is terrific and this time around Williams is in much better form and featured more, his hot, bluesy trombone sounding a lot like Jimmy Harrison. Sid Weiss isn't given any solo room, but if anything is even better than on the previous session; he and the ultra-smooth Best sound just beautiful together, rock-solid yet very fleet.
Sid's third and final HRS date from June 26, 1946 is really something special though, a unique and intimate chamber-jazz quartet led by trumpeter Buck Clayton, with Scoville Brown on clarinet and Tiny Grimes on electric guitar, no drums. The music here is charming, light and cool, with some mainstream boppish touches. Clayton is his usual elegant and eloquent self, sometimes using cup-mute or a hat over the bell of his horn to great effect. Scoville Brown was a veteran of big bands who was rarely heard on records, a shame given how well he plays here. His sound and approach recall Lester Young on clarinet; he has a dry, piping, limpid tone, sticks mainly to the middle and upper registers with a uniquely clipped articulation, as though he were squeezing the notes out. He also has a very slight waver in his pitch which is not annoying but rather pleasant, it makes for an interesting colour in the tightly voiced lines with Clayton's muted trumpet. Tiny Grimes is terrific throughout, very fluid in a Charlie Christian bag. Sid Weiss makes very intelligent use of the quiet and space here. His pulse is light and springy and he's very tasty with rhythmic skips and counterpoint, always adding to the beat rather than detracting from it. "Wells-A-Poppin'" starts with a splendid bass solo as an intro and Weiss sounds great on two takes of "Basie's Morning Bluesicale". Like many HRS dates, this one leaves you wishing this band had done more recordings; they sound as if they'd played together for years, but likely existed in the studio only.
Weiss continued freelancing in the late-'40s and onto the 1950s, playing and recording with saxophonist Jerry Jerome, Wild Bill Davidson, Billy Eckstine, guitarist Bobby Sherwood, Joe Bushkin, Johnny Guarneri and of course Goodman. He didn't really make the transition to bebop and his career wound down toward the middle-'50s. During these years he became very involved with the A.F.M. (the musician's union), working to improve the professional lot and conditions of his colleagues. He moved to the Los Angeles area in the late-50s, playing part-time and continuing his union work. This eventually led to him serving as Deputy State Labor Commissioner for California in his retirement. His last record date was with Jerry Gray in 1966 and he died on March 30, 1994 in Colton, California, from complications following heart surgery.
It's hard to understand how someone who played this well and this much with so many important musicians could now be mostly forgotten, virtually invisible on the Internet. It's partly that he was always a sideman and maybe a sign of the disposable times we live in. His disposition may have something to do with this too, Sid was a quiet, unassuming, businesslike guy, a pro who showed up on time and did whatever the gig required. He wasn't especially colourful or a party animal, I've yet to read a funny story about him. The wide range of people he played with as a freelancer extraordinaire also works against him. Often having a long association with one famous band or artist will give a musician a clear, specific identity which makes them stand out, but Sid Weiss didn't have that. He was so good he worked with practically everybody.
6.  a) – Junior Raglin. Bassist Billy Taylor had the misfortune to be utterly supplanted in Duke Ellington's band by the great Jimmie Blanton and Alvin "Junior" Raglin surfaced on the other side of this, it was his unenviable task to replace Blanton in the band after Jimmie's early death. In fact, Raglin went Taylor one better, having the misfortune to be sandwiched in Duke's band between the brilliant Blanton and Oscar Pettiford, the first (and best) bebop bassist. He didn't have the chops or musical vision of either man – nobody did – but taken on his own terms, Raglin was a very good bassist, powerful and steady with good technique and a big, solid sound. He was certainly one of the better bass players of the early to mid-1940s and one of the first to reflect Blanton's influence.
Junior was born on March 16, 1917 and was originally a guitarist, but picked up bass in the mid-'30s, playing with Eugene McCoy's band in Oregon 1939-41. Ellington must have heard him in this time, because Raglin began playing with Duke's band in late 1941, when Blanton was still alive and also in the band. The two bassists occasionally shared the stage, this was probably a measure of insurance against Blanton's rapidly declining health.
If Duke saw Junior Raglin as a step down from Blanton, it didn't show in the way he used him; Raglin often played on pieces that had featured Blanton. On the recording of Ellington's 1943 Carnegie Hall concert, Junior is assigned Blanton's solo spots on "Ko-Ko", "Jack the Bear", "Bojangles" and he plays the famous duet "Pitter Panther Patter" with Duke on the 1944 Carnegie concert. Raglin and Ellington also recorded the new duet "Dancers In Love" on a July 10, 1945 RCA session. As great and innovative as Blanton was, I feel the band suffered more from the departures of Tricky Sam Nanton, Rex Stewart and especially Ben Webster during that period.
Raglin's years with Ellington (1941-45) were transitional ones, marked by other personnel shifts, some major new suites ("Black, Brown and Beige", "The Perfume Suite") and a lot of songwriting on Duke's part. Taft Jordan, Shelton Hemphill and Cat Anderson were among the new trumpeters. Juan Tizol left for a while and was replaced by Claude Jones, Sidney de Paris would take Nanton's place (but not really.) Toby Hardwick and Barney Bigard had been replaced by Russell Procope and Jimmy Hamilton respectively, both would remain for years. There was some interesting music as always, "Beige" being the most ambitious. Raglin has an arresting turn on the recording of it, some very effective bass-strumming behind Johnny Hodges on "Come Sunday", maybe Junior's best moment on record.
Raglin left Ellington late in 1945 and would lead his own quartet, though he never recorded as a leader. He worked with Ella Fitzgerald and Al Hibbler for a while and returned to Ellington briefly in 1946 and 1955. Illness forced him to largely retire from the late-'40s on and he died on November 10, 1955 at just 38 years of age. His short life and career, plus his ill-timed placement between two such great bassists have caused him to be greatly under-appreciated, a shame because he was very good.
6. b) – Ernie Shepard.  Ernie Shepard was born in Beaumont, Texas on July 19, 1916 and began playing bass as a teenager, eventually settling in Chicago. He played there often with Gene Ammons, Sonny Stitt and the bebop singer Earl Coleman among others. Like a lot of musicians who elected to remain in Chicago  – Israel Crosby, Victor Sproules, Wilbur Campbell, Chris Anderson for example – he was less recognized than he deserved, Chicago was (and is) the Second City. In contrast, the bassists who left Chicago for New York – Wilbur Ware, Richard Davis, Bob Cranshaw and Buster Williams – all became more prominent. Duke Ellington heard Shepard many times and took note, Ernie was long a favourite of his for his huge sound and infectious swing. When Aaron Bell tired of the road and quit the band in the autumn of 1962, Duke hired Shepard to replace him.
The band was on the road almost constantly, recording a lot both live and in the studio during Shepard's stay. Ernie appears on the studio albums Recollections of the Big Band Era and Duke Ellington's Jazz Violin Sessions, as well as making studio albums with Paul Gonsalves in 1963 and Johnny Hodges in 1964. He also appears on notable live recordings with the band, The Great London Concerts and The Great Paris Concert.
The latter was done in February of 1963 and was mentioned in an earlier post, "Lightning In A Bottle" as being among Duke's greatest live recordings. Everyone – Duke, Cootie Williams, Paul Gonsalves, Johnny Hodges, Jimmy Hamilton, Ray Nance, Sam Woodyard – is in towering form, yet Ernie Shepard is a huge part of the success of these performances. Simply put, he's a powerhouse and sounds as though he'd been playing in the band for years instead of months. His sound is massive and vibrant, his beat irresistible and there's a lot of interplay between the ideas he plays (even while simply walking) and the rest of the band and the soloists. This is apparent right away, as the album kicks off with "Kinda Dukish", featuring just Duke with Shepard and Woodyard, the three of them thinking as one. It's a spectacular intro to the best version of "Rockin' In Rhythm" the band ever recorded, they just take the roof off the Paris Olympia, it's scalding. This level continues throughout the mixed program and no matter how much the band roars, Shepard can always be heard and felt, throbbing away. When necessary he's also subtle, as behind Hodges on the first chorus of "Sunny Side Of the Street" or during the extended four-movement "Suite Thursday".
Despite its title, this record was culled from a number of concerts the band gave in Paris, so it's not just a matter of them having a good night, they were on a superlative run. On the strength of these performances alone, I've always felt that, Jimmie Blanton aside, Ernie Shepard was the best-sounding bassist with the Ellington band. I don't make this statement lightly, I've listened to a lot of Ellington records along with this one since I was in my early 20s and Shepard has been a favourite of mine ever since first hearing it.
Shepard's stay with the band was cut short by illness and he was replaced by John Lamb sometime in 1965. He died on November 23, 1965 in Hamburg, Germany. With Blanton dying at 23, Raglin and Pettiford at 38 and Shepard at 49, playing bass with Duke Ellington was not exactly a recipe for longevity.
6. c) – Eddie Jones. To form an analogy between my two favourite subjects, Eddie Jones was to Count Basie's band what Sherm Lollar was to the Chicago White Sox. When the Korean War was still being fought and Eisenhower was first elected President, Sherm Lollar was catching for the White Sox. When Ike was re-elected, Lollar was catching for the White Sox, ditto when Kennedy was elected. Lollar was still the White Sox catcher when JFK was assassinated, although that was his last year. He was their comforting and constant core, could always be counted on as a workhorse. It was this way too with Eddie Jones, he was a Gibraltar with Basie for essentially the same period, 1953-62.
When the going got tough for big bands, Basie disbanded around 1950, continuing with a terrific sextet featuring three horns (actually often a septet when Freddie Green kept showing up for work.) With some backing from Norman Granz, Basie reformed in 1952, with the "New Testament Band". Jimmy Lewis had been the bassist with the sextet and was in the big band for the first year or so before being replaced by Jones, who was just 24. Lewis was a good player, but Jones was a step up in every way, had a bigger sound, better pitch and time, was just a rock. Jones was born on March 1, 1929 in Greenwood, Mississippi but ironically grew up in the same town that produced Basie – Red Bank, New Jersey – and had spent his early 20s playing with Sarah Vaughan and Lester Young.
The new band didn't have great, original soloists like the 1936-40 band had in Lester Young,  Herschel Evans, Dicky Wells, Buck Clayton and Harry Edison – though Joe Newman, Thad Jones, Al Grey and the two Franks – Wess and Foster, were very good. This band had greater ensemble precision and poise though, played more varied and interesting arrangements, supplied by such as Ernie Wilkins, Neal Hefti, Frank Foster, Sammy Nestico and others. Gone were the days of the simple riff-charts of the '30s, but above all the new band always swung with a very balanced and deep groove.
As holdovers and rhythmic virtuosos, Basie and Freddie Green had a lot to do with this, but so did Eddie Jones, he fit them like a glove. In his early days with the band, the drummer was Gus Johnson, who was a model of taste and time, very easy to play with. It was not always so with Johnson's replacement Sonny Payne, who could be a wayward handful, both on and off the stand. Payne was a heavy drinker and known for his showboat tendencies, his stick-twirling antics, solos and such. Sonny generally sounded very good with the band though and Eddie Jones, with his rhythmic steadiness and strength, deserves a lot of credit for this.
Basie's new band was a big success in every way, this was a great period for him. They toured almost constantly and made a lot of good records for Verve and Roulette, both live and in the studio. Among the best of these were The Atomic Basie, Joe Williams Sings, Count Basie Swings, Chairman of the Board and The Kansas City Suite, written for the band by Benny Carter. Eddie Jones is on all of these and his playing is a model; others might have succeeded in the role, but he was there so long and was so consistent, it's hard to imagine how the band would have sounded without him. He almost never got a solo, but he's always audible and because of the space and balance in the rhythm section, Jones is often exposed, he and Green sounding as one pulsing heartbeat.
Apart from his unerring time, the thing that stands out for me about Jones is that, other than Ray Brown, he's the only bassist who consistently gets every note he plays to throb, regardless of register. Each one seems to glow with life from within and for a long time, I thought this was the effect of playing with Freddie Green – played well, acoustic rhythm guitar has a way of amplifying the bass. But Jones made a few small-group records apart from the band (as well as some with Basie sidemen) and this throbbing effect is even more pronounced on them, despite Green's absence. Milt Jackson certainly seems to have liked Eddie, who turns up on some of Milt's Savoy records and on his encounter with Coleman Hawkins, Bean Bags. The Jones brothers – Hank, Thad and Elvin – also selected Jones to play on their Keepin' Up With the Joneses album. It's always instructive to hear a player outside of his normal context or comfort zone and as good as Eddie Jones sounds with Basie, he sounds even better in small groups.
Jones left Basie after 1962 and essentially retired from music, which is perhaps understandable. Ten years of being almost always on the road, schlepping a bass around the world and playing several billion quarter-notes may have left him a bit tuckered out, even at 34. Playing with another band would have been a comedown and Jones went to work for IBM, later becoming vice-president of an insurance company. He returned to playing mostly in a mainstream context in the 1980s and died May 31, 1997, at 68. Although playing so long with such a great band was certainly a feather in his cap, his constant reliability meant he was largely taken for granted and unsung.
© 2013 – 2017, Steve Wallace. All rights reserved.