A while back I had occasion to look over Yogi Berra's career stats and noticed something for the first time which shocked me a little: in his long and storied career, he never led his league in a single offensive category. That's not to take anything away from him, but I just assumed a player so great would have led in something – maybe doubles or sac flies or walks – at least once.
Because he looked and talked so funny, a lot of people just don't get how great Berra was as a player; they think he's famous because he played for the Yankees and said all those goofy things. But make no mistake, he's still the easy pick as the greatest catcher ever to play, and it's not real close. He won three MVP awards, a record for catchers equaled by Roy Campanella during the same era. But Berra was more consistent than Campy, who had a habit of alternating his monster seasons with average ones. And Berra finished in the top four in MVP voting four other times. Think about that for a second. It means professionals who watched him play every day went on record to say he was one of the top four players in the AL seven times – that has to carry some weight.
Catchers are looked to for leadership, so there are also the ten World Series rings Yogi won – a record for a player, the most important one there is. Joe DiMaggio is next with nine, and obviously some of those were the same rings. It's universally accepted that great teams have great catching and Berra was the catcher for the greatest team-dynasty in history. Case closed.
It's not that he was the best at any one thing. There were catchers who played better defense or threw better, catchers who had more power (though not many) and catchers who were better all-around hitters. Appearances to the contrary, I doubt there was ever a smarter catcher, or one any better at handling pitchers. Yogi did all the things a catcher had to do really well along with having a really productive bat, and combined all that longer and better than anyone else.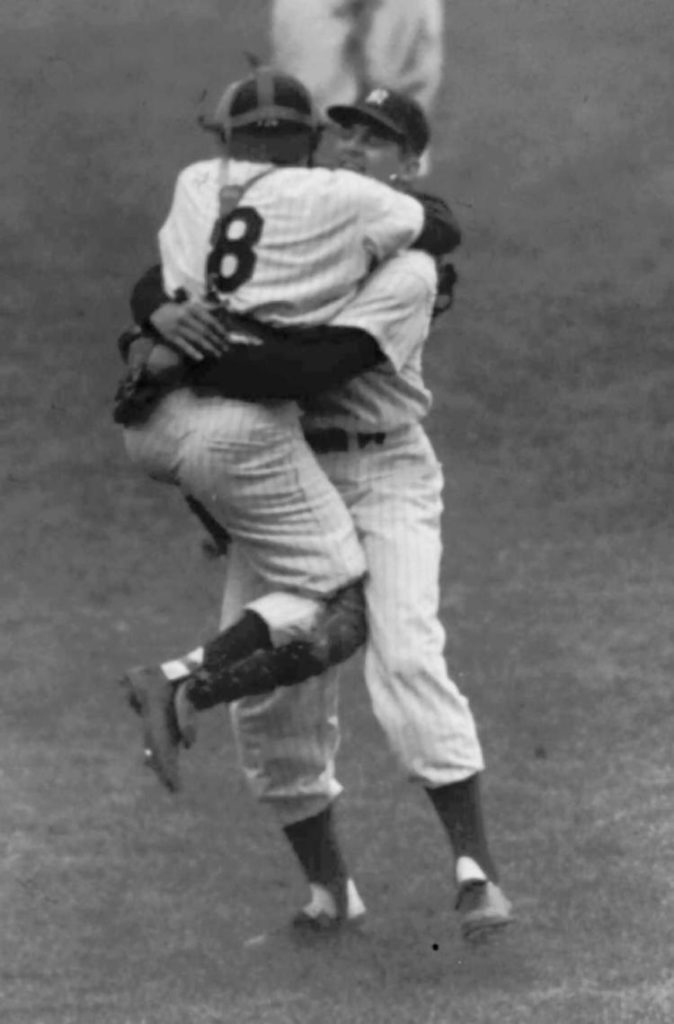 Anyway, it turns out I shouldn't have been so surprised that Yogi never led his league in any hitting category. I looked into a bunch of other really good catchers who played a long time and very few of them did, either. Basically, I learned three things. One, the rigors of the position and all the nagging injuries make it really hard for a catcher to lead in any one batting category even once. Two, the list of really good-hitting catchers is a short one, maybe 20 guys, and their long suit is usually power. And three, if a catcher is going to lead in anything, it will be grounding into double plays (GIDP), because they're usually so slow. Or sac flies, because they're generally strong and hit the ball a long way.
Other outstanding catchers who never led in any hitting stat include Pudge Rodriguez, Yadier Molina, Bob Boone, Thurman Munson, Bill Dickey, Jorge Posada, Benito Santiago, Mike Piazza (maybe the best hitting catcher of them all), Ted Simmons (also a great hitter) and quite a few others. Well, that's not quite true………….. Piazza, Pudge, Simmons and Santiago each led in GIDP once, but that's a negative. Posada did it twice and Ernie Lombardi, maybe the slowest player ever, did it four times. Gabby Hartnett, one of the best catchers of all time, led the NL once – in strikeouts. And Carlton Fisk, also one of the best ever, led the AL once – in being hit by pitches (HBP). Bill Freehan, a very solid catcher for the Tigers, led the AL in HBP three times. Gene Tenace and Darrell Porter each led the AL in walks, though Tenace split time between catching and playing first base when he did so.
Basically, it comes down to a handful of catchers who have been offensive leaders in anything significant, and even then just a few times.
Catchers have won just seven batting titles, and it was four guys. Joe Mauer won three (an amazing accomplishment in itself), Ernie Lombardi won two, Buster Posey won one and so did an old-timer named Bubbles Hargrave, way back in 1926.
Mickey Cochrane won two MVPs and led the AL once, in OBP. Gary Carter was no slouch – he led the NL in RBI and sacrifice flies once, but also in GIDP once. Campanella led the NL in RBI once.
Apart from the three batting titles, Mauer also led his league in OBP twice, and in slugging, sac flies and OPS once, all between 2006 and 2012. Even more than Mauer, the most dominant guy was Johnny Bench, who led the NL in RBI and sac flies three times each, homers twice, and total bases and intentional walks once, all from 1970-74. Because of injuries and wear-and-tear, Bench wasn't able to sustain his dominance after that, but for five years there he established a peak level that was the highest for a catcher ever. But Yogi was great for 11 years as a full-time catcher from 1949 to 1959, and was agile and productive enough that he played 262 games in left or right field late in his career.
The most surprising fact I discovered is that Tim McCarver, who caught almost as long (1959-1980) as he's yakked about baseball on TV, led the NL in triples with 13, in 1966. I'm not sure, but I'd lay money he's the only catcher to have done that. It's a good bet that no catcher ever led the league in stolen bases. That just doesn't compute; it would be like a pitcher hitting .350.
Getting back to Yogi….. I'm no Yankees fan, but if I were choosing players for an imaginary all-time great team, he'd be my second pick behind Honus Wagner. Any team with Berra on it would win a lot and laugh even more. It's a hard combination to beat.
As to what catchers might do moving forward as the game changes, who knows? As Yogi once said (maybe) – "Never make predictions, especially about the future."
© 2019, Steve Wallace. All rights reserved.