International Women's Day was March 8 and three days later I played an evening of songs with lyrics by the great Dorothy Fields, the first woman to break into the all-male world of big-time songwriting. Both got me to thinking about the subject of women in jazz and the struggles they've faced over the years establishing careers in the music, other than as singers. 
Being a jazz musician is tough: this is not a complaint, but a statement of fact. The music itself presents challenges which never seem to end, and then there's the attendant "lifestyle": not much money or security, erratic work, and the constant uphill battle of playing music that is often misunderstood and/or ignored. I've experienced all of this and more firsthand, but I've had it relatively easy because I'm a white male. Black American musicians have had to face the above challenges of a jazz career while also waging daily battle with the institutionalized racism that has been a fact of life in American society, and continues to be to some extent. Considerable progress has been made on this front and jazz likely has had a good deal to do with that, but there's still work to be done. But imagine, if you will, facing the difficulties of being a jazz musician as a black woman: dealing not just with the challenges of the music and racism, but sexism too. It's a case of 'we shall overcome, someday', but in triplicate. 
At any rate, this is not intended as a sociopolitical lecture…..but rather to say that all of the above makes the time seem ripe to write about the pianist Patti Bown. This is something I would have eventually got around to anyway, for several reasons. Firstly, she's gradually become a favourite over the years by making palpable and indispensable contributions to a number of records that I've come to love. And secondly, she died nearly ten years ago and isn't much remembered now: if more people knew about her it would be a good thing all around.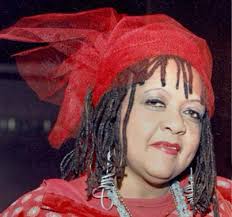 Everything about Patti Bown was big: her body; her personality (apparently she could be quite headstrong and outrageous, a kind of Dinah Washington of the piano); her technique and style (tough, versatile, idiosyncratic and hard to pin down) and above all, her gutsy spirit. Fittingly, her only album as a leader was called PATTI BOWN PLAYS BIG PIANO. And, uniquely among female pianists of her day, she often played in big bands: those led by her longtime friend Quincy Jones and by Oliver Nelson, and others assembled in studios to accompany singers such as Dinah Washington, Jimmy Rushing, and others. Big bands were a good setting for Bown, her full sound stood out in them and she had the sensitivity to weave in and out of backgrounds and the power to drive the rhythm sections in larger groups.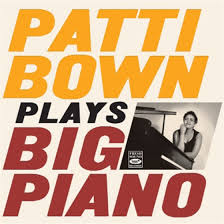 Before going any further, a couple of video clips from Paris in late 1959 offer excellent introductory samples of Bown in action. They're both under the nominal leadership of Phil Woods and comprise musicians drawn from the Quincy Jones band that traveled to Paris to play Harold Arlen's blues opera FREE & EASY. The first is filmed in a club and has Woods, Clark Terry on flugelhorn, the ageless Budd Johnson on tenor, Jimmy Cleveland on trombone, Bown, Buddy Catlett on bass and Joe Harris on drums, playing two Charlie Parker tunes: a bristling "Scrapple From the Apple" and a loping "Now's the Time". Her name is misspelled here as "Paddy Bowen", something which she constantly had to deal with. People often mispronounced her name to rhyme with "down", or as "Bo-wen"; it's actually pronounced "bone". And even now, Google auto-corrects "Patti Bown" to "Patti Brown". The footage shows her taste in outlandish headgear and also that she's entirely comfortable in this fast male company, comping with great propulsion throughout. Her driving chorus on "Scrapple" has both blues and bebop in it, but also a little stepping outside of the key, something she did often and intentionally:
The second clip has basically the same band, but with Sahib Shihab on baritone in place of Johnson, tackling "Ornithology" at a brisk tempo. Bown seems to stumble ever so slightly at the beginning of the second sixteen bars of her solo but recovers quite ingeniously, which is the art of jazz in a nutshell. I'll tell you one thing that's for certain: no rhythm section she ever played in had any flies on it, she kept things moving.
Born Patricia Anne Bown on July 26, 1931 in Seattle, she was one of seven children – two boys and five girls, raised in a household where musical talent and culture abounded. Her mother Edith was a fine pianist and took her children to hear concerts by Marian Anderson, Katherine Dunham, and Arthur Rubinstein. Most of the piano talent in the family was split between Patti and her sister Edith Mary, who became a concert pianist in an era where it was well-nigh impossible for Afro-Americans to enter the classical field. Another sister, Millie, was the only one of the girls without perfect pitch and recalls Patti at three years old astounding her parents by copying on the piano things she heard Duke Ellington play on the radio.
Another sister, Augie, remembers Edith and Patti fighting over practice time at the family piano. "They'd be pushing on each other, both sitting on the stool and pretty soon it would break. My mother bought three stools in one year."
Although their mother liked to play some blues and jazz piano at home, she insisted the girls study the classics and religious music, such as spirituals and gospel. She would never play blues in public and forbid her daughters to do so, especially Patti, who really showed an inclination in that direction. As Bown said, 'When I walked home from school, I passed the pool parlor and the Mardi Gras and they always had jazz playing. My mother was saying 'No!' but the music was sensuous and it said 'Yes!'" Augie recalled that Patti would tell her mother she was going to visit a neighbour, then go out and play in these dens of sin and sometimes she'd be locked out of the house for an hour if her mother found out.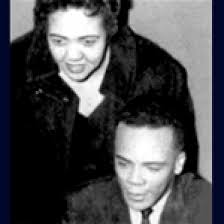 Quincy Jones was a neighbourhood friend, indeed he recalls playing "house" with Bown when they were kids. When Mrs. Bown finally relented as her daughter grew into a teenager and started to develop professional-level skill, Patti and Jones came up playing together on Seattle's vibrant Jackson Street jazz scene in the late '40s. The two would remain friends for life and during this time, Jones introduced Patti to his friend Ray Charles, who took an interest in the younger pianist and gave her some pointers on accompanying jazz soloists. This was a significant moment for the young woman: she would become prized for her infectious and soulful comping, and for a style which embraced and combined gospel, the blues and bebop, much as Charles did.
In 1949, she won a music scholarship to Seattle University and performed with the Seattle Symphony in 1952. She later transferred to the University of Washington, where she finished her formal studies. In 1955, she decided to move to where everything was happening: New York. She was barely 24.
At this point, Bown, along with her natural feeling for blues and gospel, had also absorbed the language of bebop as well as classical piano music, much of it modern. She had a lot of technique and an eclectic, unpredictable style which ran the gamut from Fats Waller through bebop to flirtations with atonality. Whitney Balliett, an admirer, once described a Bown solo as "an eight-minute lesson in how to make a piece of improvisation so tight and complex it would supply a dozen soloists for a week." This versatility extended to her accompaniment and she was an excellent sight-reader, so she was soon in high demand for recording work. Not long after settling in New York, she renewed her friendship with Quincy Jones, who had been there since 1952 and had told many about this fine pianist from his hometown. She's heard to good advantage on DINAH WASHINGTON SINGS FATS WALLER from Emarcy in 1957, and on a Billy Eckstine record from around that time. Singers loved her: Bown turns up on albums by Oscar Brown Jr., Etta Jones and did some singing herself, though none of it turns up on record. Blues-oriented artists loved her too, she recorded with Big Joe Turner, Jimmy Rushing and Eddie "Cleanhead" Vinson, as well as with soul artists like Aretha Franklin and James Brown.
So Bown made quite a splash in New York and formed a trio with drummer Ed Shaughnessy and various bassists, including George Duvivier and Joe Benjamin. In 1958, a perceptive record-industry man named George Painkin brought an acetate demo of Bown to Columbia Records and the label was impressed enough to invite her to record a trio album, PATTI BOWN PLAYS BIG PIANO, recorded in three late-1959 sessions with Benjamin and Shaugnessy, and released in 1960. Unfortunately, this wasn't a multi-album deal and this would be Bown's only record as a leader, a pity which I'll return to later. It's ironic though, that her only album was done not for some minor, fly-by-night label, but for the biggest one of all.
I would include some YouTube clips from it, but there don't seem to be any available except by private subscription, which is also a mystery. Alas, old-fashioned description will have to do. It's a toe-tapping, highly entertaining piano trio album with an interestingly varied repertoire. There are four of Bown's funky blues-based originals: "Nothin' But the Truth"; "Waltz de Funk" (a naughty pun on WTF, perhaps?); "G'won Train" (reminiscent of Ellington's "Happy Go Lucky Local" and later covered by Quincy Jones and Jimmy Smith); and "Head Shakin'". These are mixed with six standards, some of them out-of-the-way ones, such as Cole Porter's "Always True To You In My Fashion", Rodgers & Hammerstein's "I'm Gonna Wash That Man Right Outa My Hair" and the very obscure "Sunshine Cake" by Jimmy Van Heusen and Johnny Burke; Patti Bown knew some songs. One can hear traces of pianists such as Bobby Timmons, Horace Silver, Oscar Peterson and Duke Ellington in Bown's style on this record, but her deep, crackling sound and bubbling time sense are very much her own. The overall impression is of a powerful pianist who hasn't quite found herself yet, hasn't decided between being a people-pleaser or a more contemplative artist, but it's a very good debut nonetheless. Some have mentioned 'cocktail piano' in connection with this record, but people also said that of Red Garland in his early days with Miles Davis, it's an easy enough label to attach. If this is cocktail piano, it's some of the most visceral and blues-drenched cocktail piano I've ever heard.
                                                                  ***
I'd like to take a time-out from the chronology of this narrative and fast-forward to the record which first made me aware of Patti Bown: Jimmy Rushing's FIVE FEET OF SOUL, from Colpix (Columbia Pictures) in 1963. It's a rousing date featuring the great singer on a program of old chestnuts, backed by a crack big band of New York's finest. Rushing, the repertoire and the wonderful band and arrangements all combine to produce a very special, soulful feeling and it has become a great favourite, one of the go-to 'jazz party records' I seek out when things seem less than rosy. Here's the discographical information:
Bernie Glow, Marky Markowitz, Joe Newman, Snooky Young (trumpet)
Billy Byers, Jimmy Cleveland, Willie Dennis, Urbie Green (trombone)
Gene Quill, Phil Woods (alto saxophone) Budd Johnson, Zoot Sims (tenor saxophone) Sol Schlinger (baritone saxophone)
Patti Bown (piano) Freddie Green (guitar) Milt Hinton (bass) Gus Johnson (drums) Jimmy Rushing (vocals) Al Cohn (arranger)
NYC, January 22 & 23, 1963.
That, folks, is fast company, and no musician, man or woman, finds themselves with such luminaries by accident. It's also stunning from the perspective of today to think that record companies back then regularly footed the bill for bands of this size and quality for what seemed like everyday shirt-sleeve record dates, but they did. Different times, different world. I first heard this record from my friend John Sumner and while listening I was trying to guess some of the personnel, especially in the rhythm section. I recognized Milt Hinton's sound and of course Freddie Green, but listening to the comping, I wasn't at all sure about the pianist. Along the lines of probability, I thought it might be Hank Jones, Sir Charles Thompson, or Nat Pierce, who "did" a lot of Count Basie back in those days. But it didn't really sound like any of them, so finally I threw up my hands and asked Sumner – who's the pianist? "Patti Bown", he answered matter-of-factly. I'd never heard of her, but took note of the name, impressed that somebody I didn't know of, and a woman at that, was more than holding their own in this thieves' den of heavy swingers. From that point forward I kept an ear and an eye out for her name, hoping to hear more of her. It wasn't long before I did.
Here's a sample of her in action on one of the album's longer, livelier tracks. She takes the first solo after a roaring set-up from the band. I love the 'splank' in her break and the percussive rambunctiousness throughout. Gene Quill takes the soaring alto solo later on:
And her comping is a marvel here, filling in in all the right places:
Returning to 1959……….. In and around the time she was making her trio record, Quincy Jones put together a big band and asked Bown to be the pianist. It would be a hot, swinging band which proceeded to make a number of records for Mercury, the label Jones had become an in-house arranger and executive for. At first it was a recording-only band with a shifting all-star personnel of top jazz session players – the usual suspects – plus some jazz favourites of Jones. Patti Bown was a constant, appearing on at least six albums by the band between 1959 and 1963: THE BIRTH OF A BAND, THE GREAT WIDE WORLD of QUINCY JONES, I DIG DANCERS, NEWPORT '61, THE QUINTESSENCE and QUINCY JONES PLAYS HIP HITS. Her work with the band cemented her reputation among New York's elite players. Having Jones as an ally was an advantage, but only if Bown could deliver the goods, which she most certainly did.
In late 1959, Jones was hired as Musical Director for the European production of FREE & EASY, the blues opera by Harold Arlen and Ted Koehler. It was to debut on January 15, 1960 at the Alhambra Theatre in Paris. Jones put together a band, which would appear on stage, that included trumpeters Clark Terry, Benny Bailey, Lennie Johnson and Floyd Standifer (another Seattle buddy) and Julius Watkins on French horn. The trombonists were Jimmy Cleveland, Åke Persson and Quentin "Butter" Jackson, who left Ellington after eleven years to join. The reed section included Porter Kilbert and Phil Woods on alto, Jerome Richardson and Budd Johnson on tenor, and Sahib Shihab on baritone. Bown headed up a rhythm section with Les Spann on guitar (and flute), Buddy Catlett on bass, and Joe Harris on drums. The show would be a musical and critical success, but, surprisingly, a commercial failure, closing after a few weeks due to poor attendance. Expecting a much longer run, Jones and the band were in effect broke and stranded. As he himself put it, "We had the hottest jazz band on the planet, but we were still starving". They had tremendous esprit de corps though, so when Jones hastily threw together a series of gigs in France, Holland and Sweden, all hands were on deck and the band proceeded to play its way back home.
While in Paris, Bown and bandmates Johnson, Jackson, Spann, Catlett, and Harris took part in a casual record date with the great expatriate American trumpeter Bill Coleman. The record would be called FROM BOOGIE TO FUNK and has a very loose, after-hours Ellington feeling to it, due in no small part to the contributions of Johnson, Jackson and Bown. Here's Part 1 of the title track, a slow barrelhouse blues in F. As Bown sets the mood, the front line kid around about how they want to play a low-down, dirty blues, then proceed to do just that. Bown's solo comes late in the track and is unfortunately cut short by a board fade but has some extraordinary moments, including a couple of startling forays away from the home key. Part 2 is not available on YouTube, but Bown struts some of her boogie stuff on it.
I've often wondered what it must have been like, being the only woman on the road in a big band touring around in such hardscrabble conditions. Years ago I talked to a couple of players I came to know who were there – Woods and Terry – about this and they smiled, then laughed, as if to say, "Are you kidding? Patti Bown? She didn't need any looking after, she had a ball and gave as good as she got!" Bown returned to New York by the summer of 1960 and took up where she left off, the next few years would be very busy for her. She was a regular with Jones and with Gene Ammons in this period. She did stints as musical director for both Dinah Washington and Sarah Vaughan between 1962 and 1964 and performed often at The Village Gate, near the Westbeth Artist Housing complex in Greenwich Village where she lived for 37 years.
Here's a sample of her with the Quincy Jones band on the title track of one of his best records, QUINTESSENCE. The ballad features Phil Woods all the way, but Bown's effervescent and interactive comping is very much in evidence as a texture, like twinkling lights against a nighttime shoreline:
Other arrangers took note of what Bown could offer a big band, in particular Oliver Nelson. Nelson used Bown on his 1961 AFRO-AMERICAN SKETCHES, and on later big band albums FANTABULOUS (1964) and JAZZHATTAN SUITE (1967). Bown also played on the album Nelson arranged for Pee Wee Russell, THE SPIRIT OF '67. She's featured as a soloist here on "Emancipation Blues", but first she gets the time romping along powerfully with Art Davis, Ed Shaugnessy and Ray Barretto behind Joe Newman. Again, there is the pure blues groove in her solo but with brief flashes of bitonality; she's quite arresting here and then comps up another storm behind Nelson's alto solo. Patti Bown was no gentleman, she was a lady to be reckoned with:
A couple of years ago, I stumbled onto a CD twofer which combined two Moodsville Gene Ammons records I'd never seen before: NICE AN' COOL (from 1961), and THE SOULFUL MOODS OF GENE AMMONS (from 1962, and an appropriate album title if ever there was one.) Much to my delight, Bown played piano on the second album, with another favourite – Richard Wyands – playing piano on the first. I bought it immediately and have had hours of enjoyment listening to this music. These are two of the more thoughtful and lyrical records Ammons ever made, with a wonderful program of old songs, some of them familiar, some not, but all of which Ammons makes his own in his deeply soulful way. The album with Bown filled in some of the blanks about her playing for me, showing her in various lights and moods I hadn't heard from her before. The small group allows her to play more gently, showing a lovely touch and a sensitive harmonic sense while still grooving like her usual self. It's another example of her rapport with Ed Shaughnessy, whose presence and playing on this album really surprised me. I always think of Shaughnessy as the very splashy, busy two-bass-drums guy driving the Tonight Show Band along mercilessly, but back in these days he was a straight up, swinging jazz drummer valued for his taste, time, reading, and willingness to experiment. Here is the opening track of the album, one of the tunes I didn't know: "Two Different Worlds", an old pop number with a lyrical gospel element which Ammons and Co. take full advantage of. Check out the colours Bown gets on the intro, and the church chords she plays behind Ammons on the melody. When Jug revs up the buzzsaw for his solo, Bown responds to his roaring opening phrase with two perfectly timed gospel chords which are like candles suddenly flickering to life. She then takes an eventful half-chorus, full of interesting phrase shapes and lengths. The bassist is "the ubiquitous one", George Duvivier:
Next is "But Beautiful", taken at a walking ballad tempo. It's Ammons all the way, but Bown sets the mood with a beautiful out-of-tempo intro, featuring dense chords which seem to burrow into each other in a slowly spinning pattern:
They use a medium Afro-Cuban beat behind the melody on "You'd Be So Nice To Come Home To" and Patti shows some detailed Latin piano touches here without getting all Carmen Cavallaro. They switch to swing and she plays a solo full of wide interval leaps and some unusual phrase-shapes. The Latin vamp out shows her playful side: she must have been a lot of fun to play with, provided you could keep up with her.
Bown continued to be busy for the rest of the '60s, also recording with Sonny Stitt, Curtis Fuller, Gary McFarland, Art Farmer, Cal Massey, James Moody, and others. But after 1968 or so, her jazz recording activity began to taper off. She kept working though, playing Broadway shows and doing some composing for TV and film. In the '70s she branched out into the pop field, working with Leon Redbone.
Patti Bown was housebound for the last eight years of her life, suffering from weight issues, poor circulation, and diabetes. She moved into a New York nursing home and then to one in Media, Pennsylvania, where she died from kidney failure on May 21, 2008, at 76.
The mystery of her career is that she never made another record as a leader, despite impressing everybody with her playing. Unraveling this is difficult, as there could be many reasons behind it. Maybe her first record didn't sell well, and there was a glut of piano trios on the market, which could have worked for her, or against her. Her contentious personality might have had something to do with it: as one of her sisters said, "she was headstrong and spoiled, but brilliant." It's not hard to imagine her saying or doing something that rubbed record execs the wrong way. Being a woman might have had something to do with it, though I doubt it, as female instrumentalists like Dorothy Donegan, Marian McPartland, Shirley Scott, Barbara Carroll, Hazel Scott and others did well in those years. I think a lot of it had to with the fact that she was so busy for so many years playing with top-flight people. This can create a "sideman mentality" which leaves little time or inclination for developing a career as a leader; it was similar for a long time with pianists like Tommy Flanagan and Jimmy Rowles, who went many years without recording much as leaders. Also, she wasn't really a trio pianist and she didn't play "pretty" the way many people expected a lady pianist to play, she liked getting down behind a couple of wailing horns. Whatever the reasons, it's a shame she didn't make more records as a leader, because she would be better-remembered now if she had.
The trouble with this line of inquiry is that it belittles what Patti Bown actually did accomplish, which was a great deal. After overcoming her mother's resistance and God knows what else, she came to New York as a 24-year-old and, with her skill and ballsy, creative playing quickly impressed some of the best, toughest jazzmen who ever lived. At a time when jazz was strictly a men's club and feminism barely existed as a concept, never mind a word, Patti Bown took a seat – not just at the boy's table, but at the big boy's table. And she enlivened a lot of good bands and records featuring great players who were her peers, leaving a legacy which would be the envy of any jazz musician, man or woman.
I'd like to close with the clip below from a little-known 1964 James Moody record called RUNNING THE GAMUT, with a killer band of Moody, Thad Jones, Bown, Reggie Workman, and Albert "Tootie" Heath. The piano is in miserable shape, which doesn't do anyone any favours, especially Bown. And yet, as well as anything I've heard her on, this track shows her fighting spirit, her outrageous adventurousness and humour. It's a medium bebop tune by Jones called "Buster's Last Stand", combining "Jeepers, Creepers" with a "rhythm" bridge. After Bown's scintillating intro, everybody has at it in ripping form. After the solos, the horns joust without the rhythm section for a while, then they take the head out and when it's over, Moody begins vamping out with Bown comping like a Waring blender. Maybe it was the horrible piano, or Bown's relentlessness, but Thad Jones starts to laugh maniacally, then Bown joins him and it turns into a free-for-all, with everybody cracking up. I'm glad they left it this way, it's a hilarious and candid shot of what playing with Bown must have been like: no quarter given, swing your ass off, stay on your toes and have a whole lot of fun.
I would like to acknowledge Paul de Barros, the jazz critic of The Seattle Times, whose obituary column on Patti Bown provided some helpful details about her family and early life.
© 2017, Steve Wallace. All rights reserved.