The 2017 baseball season is barely underway and already it feels different than any in recent memory. For one thing, the Chicago Cubs begin the season as World Series champs, something that couldn't be said for the past 108 years. Even if you're not a Cubs fan, or a baseball fan for that matter, when an albatross this heavy is finally lifted it puts a spring in your step and brightens the world, if only a little.
And for the first time in 20 years, baseball will be without David Ortiz. Big Papi went out in style with the greatest final season by a ballplayer ever and his retirement leaves a big hole in both the Red Sox and the game itself.
But mostly, this baseball season will be different because for the first time in nearly seven decades, Vin Scully will not be broadcasting Dodger games. It's almost impossible to offer any perspective on this, but consider that most people retire at age 65, whereas Scully spent 67 years on the job. The unprecedented length of his career coupled with his sudden absence creates a paradox which seems inconceivable: how could he do something so well for so long, and yet, having defied all odds in doing so, how could he not last forever? How can he be just…. gone?
Of course this is absurd, one can't begrudge Scully leaving with his head held high, still with a lot of game left. That would be churlish, as in: "He's retiring, already!? At 89? What, does he want to enjoy some leisure time or something? The selfish bastard!!" He'll be greatly missed, but his departure is not tragic or unexpected: he didn't die, he just sauntered off to a different, quieter place in the sun. The only suitable reaction is to celebrate him and be grateful for all he's given us: three or four generations of baseball fans were lucky to have had him for so long, and know it. Hell, we'd have settled for hearing him for 35 years, never mind 67. So let us not be greedy.
He began broadcasting Dodger games at age 22 in 1950, which could lead to an endless parlor game of the mind, possibly with the unwieldy name of "What the World Was Like When Vin Scully Was A Rookie". It might go something like this: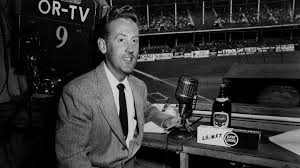 World War Two was not a distant memory but a dark shadow that still hung over the world, and the Cold War was just beginning to ice up. Harry Truman was the President, and Scully would see his way through the administrations of 10 more, from Eisenhower to Obama. Joseph Stalin still ruled the Soviet Union with an iron fist, McCarthyism had just begun to show its beady little eyes and the Korean War, or "conflict", was just getting underway. King George VI still sat on the throne of England; Elizabeth would not be crowned Queen until 1952. Think how long she's reigned and add two years: that's how long ago Scully started.
In music, Chubby had only just left Woody, Charlie Parker was still alive and Sonny Greer was still playing drums with Duke Ellington. Frank Sinatra was in the crapper; his career-saving role in "From Here To Eternity" was three years away and his glorious Capitol years were yet to come. After a promising start, Miles Davis was about to head south for a while too, and he wouldn't become a real star for another four or five years. Never mind The Beatles; nobody had heard of Little Richard, Jerry Lee Lewis, Chuck Berry or Elvis Presley yet, nor was rock 'n' roll a phrase on everyone's lips. No, back then music was still largely made by adults, for adults.
In baseball, Jackie Robinson had broken the colour line just three years earlier with the Dodgers, but black players were still relatively rare. Despite growing into a power during the '40s, the Dodgers had yet to win a World Series – they stood at 0-5 in 1950 and would lose a couple more before finally winning one. Joe DiMaggio still patrolled center field for the Yankees, and the two stars who would define the coming era – Mickey Mantle and Willie Mays – had yet to play a major-league game. Sandy Koufax, who would inspire some of Scully's greatest moments, was fifteen, still attending Erasmus High in Brooklyn. The American and National Leagues each consisted of eight teams, the same ones that had played in the same ten cities since 1903. The Dodgers played in Brooklyn then and the Giants in Harlem; the Braves were in Boston and the A's in Philadelphia. And the Baltimore Orioles, well…..they didn't exist yet, they were still the St. Louis Browns, as awful as ever.
All this and much more in baseball would change drastically and quickly in the next decade or two, indeed Scully can be seen as a receptacle of modern baseball history in human form. He observed firsthand so many ground-shifting developments in the game, both good and bad: the growth of black and Latin American players, franchise shifts, expansion and internationalization, divisions and expanded playoffs, free agency, spiraling salaries, drug scandals, labour stoppages, the introduction of the wild card and interleague play, the steroid era and its aftermath. The landscape of the game now compared to 1950 is almost unrecognizable, yet Scully was a constant, providing some much-needed continuity and equilibrium throughout all this upheaval. Other sports have their legends and icons, but only baseball, with its inherent tradition and history, its "quality of mythology", as Bernard Malamud put it, could have produced Vin Scully.
Think of it: he must have called at least 10,000 ballgames over the years and witnessed the entire careers of legions of Dodger players. Not to mention managers, from legends like (Kindly Old) Burt Shotton (or KOBS as Dick Young dubbed him), Charlie Dressen, Walter Alston and Tommy Lasorda right on through to Joe Torre and Don Mattingly, and on up to Dave Roberts today.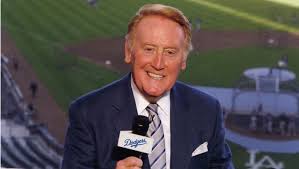 Imagine, if possible, the millions of baseball moments he saw – some tiny and forgettable, others momentous and etched forever into the highlight reel of his memory. Right off the bat, the final game of the 1950 season between the Dodgers and the upstart Phillies, which would decide the National League pennant – if the Phillies won, they clinched, if the Dodgers won, they forced a three-game playoff. In one of the greatest baseball games ever played, the Phillies took it on Dick Sisler's homer in the top of the tenth inning, but that was only made possible by Richie Ashburn's astonishing game-saving throw to home plate in the bottom of the ninth to prevent Cal Abrams from scoring the winning run for the Dodgers.
And that was just the beginning for Scully: the next year was more of the same for the young man, but even more dramatic. Another hair-raising finale for the Dodgers against the Phils, this time to salvage a tie with the Giants for the pennant. All culminating in Bobby Thomson's "Shot Heard Round the World" which broke the hearts of Dodger fans everywhere.
A couple of thrilling Series losses to the Yanks in 1952 and '53, before "next year" finally came to Brooklyn in 1955 with a win over the Bombers, fueled by the stout pitching of young Johnny Podres and a sensational catch in left by journeyman Sandy Amoros.
Don Larsen's perfect Series game the next year as the Yankees restored world order by again beating the Dodgers. Shortly followed by the Dodgers and Giants leaving together for California, tearing the hearts out of New York's National League fans for years to come. Their first championship as the LA Dodgers in 1959, and Roy Campanella Night, when 90,000 fans lit matches in the darkened Coliseum. The move to Chavez Ravine and Dodger Stadium and the team's ascendancy to glamour status. The powerhouse 1962 team losing the pennant in gut-wrenching fashion to the Giants; the infamous Marichal-Roseboro bat-swinging incident, and their shocking sweep of the Yankees in the 1963 Series. And the emergence of Sandy Koufax in a five-year run of unmatched pitching dominance between 1962 and 1966. During those years, Scully broadcast three no-hitters by Koufax, and on September 9, 1965 he would call the celebrated perfect game Koufax threw against the Cubs. For those who haven't heard this, here's the final inning of Scully's broadcast, nearly as famous as the game itself, and rightfully so:
And on and on with the Dodgers, including their unexpected win over the A's in the 1988 World Series, powered by Kirk Gibson's gimpy-legged, game-winning pinch-hit home run in Game One. In one of his finest moments, Scully called it: "High fly ball into right field, she i-i-i-is… GONE!!!" Then he said nothing for over a minute, allowing the pictures to tell the story as Gibson limped around the bases and the place went crazy. Then he said, "In a year that has been so improbable… the impossible has happened!" Indeed, and precisely.
                                                                        ***
Most of the foregoing has been a consideration of the longevity, or if you like, the quantity of Scully's career, but clearly it was the incomparable quality of his work that set him apart and allowed him to last so long. He was good to begin with, and simply kept getting better until he raised the craft of calling a baseball game to an art form. To be sure, baseball has had a number of other great broadcasters: Mel Allen, Red Barber, Ernie Harwell, Tony Kubek, Tom Cheek – yes, Tom Cheek – but Vin Scully was in a league of his own.
First of all, there was that voice: not a megawatt stentorian rumble, but a light tenor, with a pleasing, rolling lilt. It wasn't especially powerful or showy, but very clear, very precise and rounded. And he had a wonderful, measured sense of rhythm and cadence: in and out, up and down, as the action dictated. It was like hearing a favourite uncle tell a treasured old story, one you'd never heard before, on the front porch during a summer evening long, long ago. You were drawn in and mesmerized, knowing it would end sooner or later, but not wanting it to.
Best of all was his narrative style, which was neither folksy nor formal, but somewhere in between: he was conversational and warm and included a lot of sharply-drawn personal observations, but his timing was so immaculate that these were never obtrusive. He adjusted to the flow of the game: if it was eventful and dramatic, he said less and less, allowing the action to speak for itself. If it was slower, he would inject more – not numbers or facts, he was not a spin-rate, exit-velocity guy – but rather stories that were suggested by events or players in the game. So, if there was a lull and a really tall, hard-throwing righthander came on in relief, Scully might say, "This kid reminds me of the old Cincinnati Reds pitcher Ewell Blackwell, who was called 'The Whip' because he was so tall and threw so hard that his arm seemed to snap like a whip. He scared the daylights out of hitters, you didn't dig in too hard at the plate against him, that's for sure….."
Or if a pitcher threw a few inside, between batters Scully might get going about the menacing Sal "The Barber" Maglie, who took delight in "shaving" Dodger hitters like Duke Snider or Gil Hodges with close ones up near the chin. If tempers flared and a dust-up seemed imminent, he might tell the story of a hulking Joe Adcock chasing the tiny, terrified Giants pitcher Johnny Antonelli around the Polo Grounds infield with a bat. Scully saw each game as a story within a story, and he was a master storyteller. Each game was like a tiny chapter in a larger narrative that stretched over decades so that the present game somehow echoed past games and they became entwined and enlivened each other. Year after year, he wove his stories into each broadcast until they formed a mosaic, a tapestry that had the heavenly reek of baseball history.
Perhaps his greatest gift was that he spent so much time with ballplayers that he saw them not just as stars or athletes who amassed statistics, but as people, with lives and families and other interests, and he brought this perspective to the listener. He amassed and saved up little details about the players' lives – not just Dodgers, but players on the other team as well. And in a slow game, rather than gumming things up with stats, he'd let you know that the rookie second baseman's father "won a Purple Heart in Vietnam then became a high school gym teacher for 35 years in Boise, where he met his wife, who was the high school's librarian, and they had eight kids." And that the rookie himself "had considered a career as a clarinettist until he hurt his lip playing basketball, so music's loss was baseball's gain……." It was never boring or corny or overdone, and it brought the players to life for the listener, along with their game.
Right up to last year, he still sounded and looked great, even at 88 his voice never wavered and his mind never wandered. Baseball kept him young and his knowledge and love of the game came through in every broadcast. Mostly what you heard was the sound of a man who loved every minute of his job, and why wouldn't he? He seemed to say, "Why the rush, what's your hurry? Put your feet up and take a load off for a few minutes, folks…..We should have a real good one tonight; Hershiser's been on a roll the last few weeks and the visiting Braves have been knocking the cover off the ball lately, especially Dale Murphy, so something's gotta give….". He invited you into the game and became your companion and I always learned something while listening to him. Only the best things in life can make you forget about time – an engrossing novel or movie, a good bottle of wine, a great jazz record, a conversation with an old friend that goes off in a thousand directions at once, a restful sleep – and a ballgame called by Vin Scully. I always considered two or three hours with him as time well spent.
                                                               ***
I started to pay attention to baseball in the early '70s and for the first couple of years I thought his name was Vince Culley, that's how little I knew. I had a lot to learn, and, along with my father, Roger Angell, Donald Honig, Lawrence Ritter, Bill James, Tom Boswell and John Thorn, Vin Scully was one of the people who taught me about baseball. Maybe more than any of these others, Scully taught me how to watch a baseball game, how to savour and anticipate its subtleties and enjoy it, even if it was a yawner.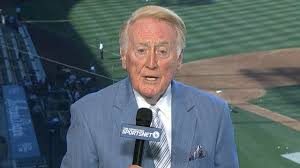 In the last few years my cable provider began airing more West Coast night games, usually starting at 10:00 or 10:30 eastern time. As often as not these were Dodger games and I found myself watching, not because I follow the Dodgers – I don't really – but just to hear Scully, because I sensed that he'd call it a day sooner rather than later. One night I tuned in fairly late after a gig, glass of Rioja in hand. It was a nothing game with the Padres, who were already about 30 games behind in the race, and the Dodgers were up 10-2 in the seventh, so it didn't look too promising.
But suddenly, Yasiel Puig uncorked a laser-beam throw from right to nail a Padre trying to stretch a single into a double. The guy was out by about three feet, it was amazing. Scully said, "That's one of the best throws I've seen by a Dodger since the days of the great Brooklyn rightfielder Carl Furillo" and I started to tingle. I never saw Furillo play, but he has long interested me. Scully continued with, "He was a good hitter with power and could run some, but was mostly known for his fearsome throwing arm, the best of his day. He was from Reading, Pennsylvania, so he was nicknamed 'The Reading Rifle', but he had another nickname…". I started to tingle some more….. could it be? "Carl was Italian, and one of his favourite things to eat was snails with garlic, which the Italians call scungilli. So his teammates shortened it down and called him 'Skoonj' and it stuck".
Something small snapped into place with a satisfying click in what was left of my mind. I've followed baseball for over forty years and read hundreds of books about it, but I'd never managed to figure out why Carl Furillo had such a weird nickname as "Skoonj". And just like that, the old master had solved it, so offhandedly. It's simple, when you know how. I realize it seems sad, but these tiny details mean everything to me, they're part of the big puzzle. That night Scully sent an aging, insomniac baseball obsessive off to sleep, glowing with a relieved inner smile, thinking "scungilli – Skoonj. Jesus, isn't that something?"
For this and countless other small, illuminating pleasures, I want to say thank you, Vin Scully. Thank you.
© 2017, Steve Wallace. All rights reserved.