Down through the years, especially in the distant past, scores of comic, off-beat or novelty songs were written and recorded, taking their place alongside more conventional Tin Pan Alley or Broadway show tunes. Some of them achieved mass appeal, while others had more of an underground cult status. Some were quite harmless but the many about sex were intended to titillate and the raunchier ones are fairly shocking for their day. Those by Slim Gaillard and Slam Stewart were just absurdist, nonsensical fun but others had a nasty edge, reflecting the tasteless vestiges of mintsrelsy. Some were parodies of then-current trends or attempts to cash in on them. Some were just plain dumb, calculated to make a quick buck through short-term air play, but others have been more lasting because of their wit. A favourite of mine among the latter is "A Porter's Love Song To A Chambermaid", published in April, 1930.
Its title suggests the earnest gentility of an old English ballad but it's really a fun song, chiefly because of its bouncy riff-like melody and above all its elegant lyrics, which explore eroticism through double entendre references to domestic chores and cleaning paraphernalia. It's a 'suds go out the door and sex comes innuendo' sort of thing. It's more charming than dirty, but in a slightly naughty way. Noel Coward might have written these words, or maybe P.G. Wodehouse:
I will be the oil mop, if you'll be the oil. Then we both could mingle, every time we toil.
I will be the washboard, if you'll be the tub. Think of all the Mondays, we can rub-a-dub!
I will be your shoe brush, if you'll be my shoe. Then I'll keep you bright, dear, still feeling good as new!
If you'll be my razor, I will be your blade. That's a porter's love song, to a chambermaid.
I will be the dust pan, if you'll be the broom. We can work together, all around the room.
I will be your clothes pin, be my pulley line. We'll hang out together, wouldn't that be fine!
I will be the dish pan, you be the perfect dish. And we'll meet after meals dear, what more could you wish?
I will be your window, if you'll be my window shade. That's a porter's love song, to a chambermaid.
These lyrics were not written by Coward or Wodehouse or Dorothy Fields, but rather by Andy Razaf – born, believe it or not, Andriamananteno Paul Razafinkarefo – try saying that fast three times in a row. Razaf of course wrote the words for Fats Waller's songs and because of this I assumed for years that "Chambermaid" was a Fats tune; indeed it's often wrongly attributed to him and certainly sounds like one of his. But no, it was written by Waller's mentor and good friend, the great James P. Johnson. Johnson, whom I admire almost as much as any musician in jazz history, was not only a great pianist but an estimable composer of instrumental music for both the piano and orchestras. Based on "Chambermaid" and his "If I Could Be With You One Hour Tonight", one wishes that Johnson had written more songs.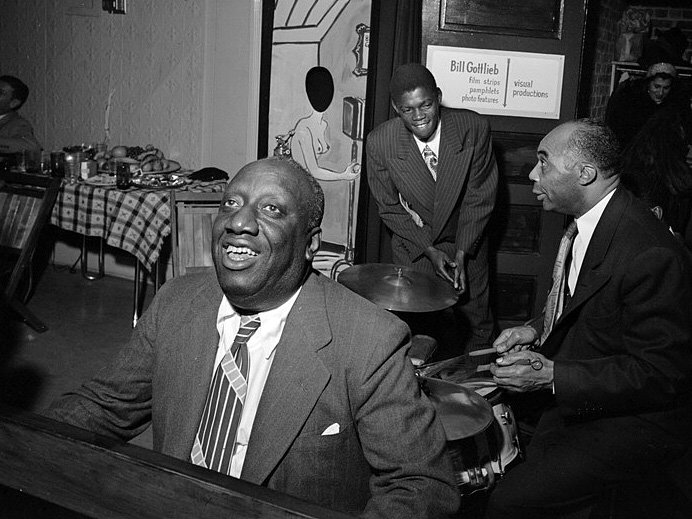 One of the subtle things about this song that I like is that its subtext is quite Anglo and white – think "Upstairs, Downstairs" – yet it was written by two black men, so in a sense it reverses racial stereotypes. Fittingly, the first recording of "Chambermaid" was by Johnson in 1931, billed as Jimmy Johnson & His Orchestra, followed later that year by a version from the Washboard Rhythm Kings. Fats Waller & His Rhythm tackled it in 1934 and not surprisingly, Fats had a field day with it.
The version that brought the song into my view is much more modern, however: a 1962 one by pianist Jimmy Rowles singing it on an obscure album called Kinda Groovy!. Luckily I found a battered copy of in a used LP bin years ago. Best dollar I ever spent.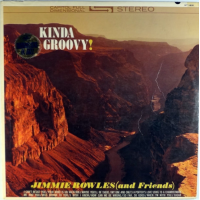 The whole album is terrific, but "Chambermaid" soon became my favourite track. Kinda Groovy! was the first Rowles record to extensively feature his vocals and while he's certainly no Sinatra, his raspy singing has great charm and a droll, off-beat wit which perfectly suit the songs he chooses. To borrow Artie Shaw's celebrated line about Lester Young's unique clarinet playing and apply it to Rowles' singing: "Jimmy Rowles sings better than a lot of guys who sing better than he does." Got that?
He certainly brings off "Chambermaid" beautifully. I love his wickedly gleeful "rub-a-dub", and his extemporized hysterical ending is a nice nod to Fats. As always, his piano playing is a surprising and very personal delight – acrobatic, swinging, eccentric and inventive all at once. He makes the piano seem liquid rather than mechanical and his loose-yet-tensile phrases come at you from around corners like a periscope. Here he is, with Howard Roberts on guitar, Max Bennett on bass, and either Shelly Manne or Nick Martinis on drums: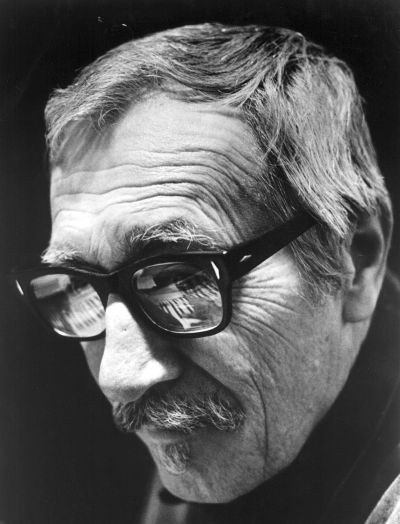 What I wrote earlier about admiring James P. Johnson applies equally to Rowles, he's become one of my jazz heroes. It's not any one aspect of him, but the sum total of his musicianship and personality that I love. His far-ranging experience – he played for and with everybody; his wide-open taste which combined tradition with modernity – he loved Lester Young, Ben Webster, Art Tatum, Teddy Wilson and Nat King Cole, but also Thelonious Monk and Wayne Shorter; his encyclopedic knowledge and love of songs; his sophisticated, slippery approach to harmony; his quirky compositions and his crusty humour all add up to a kind of timeless, world-weary hipness I find irresistible. I think of him as the Mark Twain of the piano, with just a sprinkling of W.C. Fields thrown in.
Returning briefly to Andy Razaf (pictured below), the following excerpt from his Wikipedia page shows that not only was his elaborate birth name bizarre, his background was too. Truth is stranger than fiction any day of the week – not just the exotic Madagascar royalty business and the fact that his mother was just 15 when she was carrying him, but that he was born in America at all and that his mother's maiden name was Waller and he would go on to write songs with one Thomas Waller. Incredible.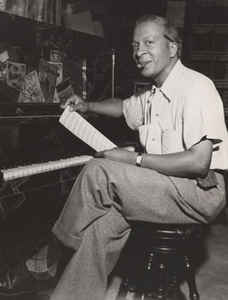 Razaf was born in Washington, D.C. His birth name was Andriamanantena Paul Razafinkarefo. He was the son of Henri Razafinkarefo, nephew of Queen Ranavalona III of Imerina kingdom in Madagascar, and Jennie (Waller) Razafinkarefo, the daughter of John L. Waller, the first African American consul to Imerina. The French invasion of Madagascar left his father dead, and forced his pregnant 15-year-old mother to escape to the United States, where he was born in 1895.[1]
My friend Bill Kirchner sent me a version of "Chambermaid" sung by Mildred Bailey in 1936, backed by the really good smallish big band her husband Red Norvo led back then. Bailey was great with specialty material like this and I wish they had let her sing both choruses of words, I'd have loved to hear her take on "rub-a-dub". One vocal chorus leaves room for some good solos though and my best guess is that the featured players are Stew Pletcher on trumpet, Herbie Haymer on tenor saxophone and Hank D'Amico on clarinet:
Not to sound too much like an old fart, but there's a blithe jauntiness in the wit of this song, a lightness, which has all but disappeared not only from music today, but from life itself. Everything now has to be heavy, or edgy, or whiny, laced with self-serving hype or a dull, moronic violence. What we need is more bounce, more grace and I think of this song as helping to scrub away some of the grime from the dreary present. It's ironic that a decade so dark it was called the "Dirty Thirties" produced so much music of such ineffable lightness – not as in 'light-weight', but as in its feet never touched the ground. And on that note, I suppose we should close with Fats Waller's version of "A Porter's Love Song", which has the verse and both choruses of words. If we have to turn to the past to find such bounce and wit and lightness, then so be it. Any porter in a storm.
Rub-a-dub and bye for now, Fats Wallace.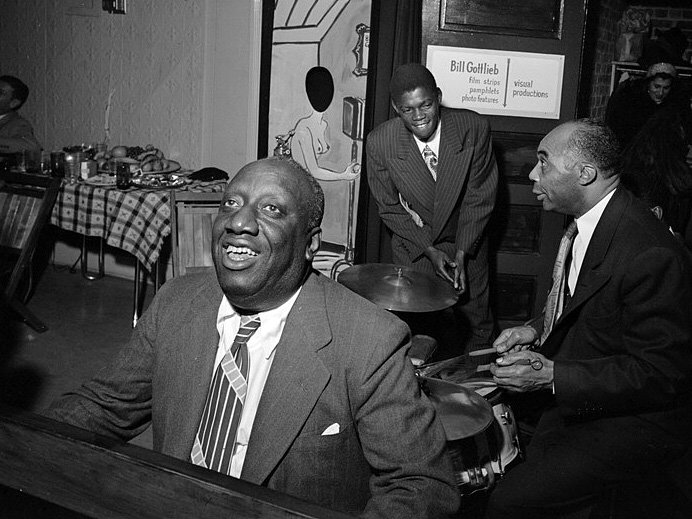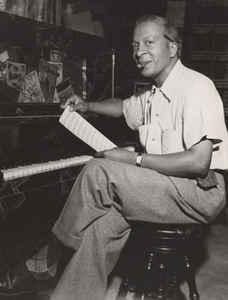 © 2019, Steve Wallace. All rights reserved.